Students Win Three State Awards at Annual Welding Competition

FOR IMMEDIATE RELEASE 6/5/2006

CONTACT: LISA GARRETT, 646-1506
PENDLETON --- Tri-County Technical College's Welding students won three awards, including a first-place honor, in the State Technical College's Annual Welding Competition held April 28 at Trident Technical College.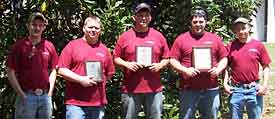 Barrett Self, of Anderson, won first place in the category 5 pipe welding TIG root. In addition, Kyle Digeon, of Walhalla, won second place in the category 1 TIG aluminum, TIG SS on carbon steel and MIG full penetration. Nick Watkins, of Anderson, won second-place honors in category 4 stick pipe.

A total of 30 first- and second-year Welding students from seven of the State's 16 technical colleges participated in the competition.