Dan Holland is New Vice President for Student Affairs at Tri-County Technical College

FOR IMMEDIATE RELEASE 3/8/2007

CONTACT: DAN HOLLAND, 646-1552
(By Lisa Garrett)
PENDLETON --- Dan Holland, the self-described 'new kid on the block,' a/k/a Vice President for Student Affairs at Tri-County Technical College, says every time he would see a newspaper article about the College, he was struck by its power to change people's lives.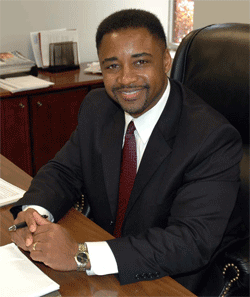 "I thought, things are really happening there -- wonderful things, like the Gateway to College and Bridge to Clemson initiatives and the opening of its second campus in Anderson. That College is making an impact on people's lives -- it is transforming their lives," he said.
After 16 years as an administrator at Southern Wesleyan University (SWU), the Seneca native joined Tri-County January 29 to lead the Student Affairs Division. He is in charge of admissions, collaboration, counseling, financial aid, WIA, registrar's office and the TRiO programs.
He spent his first month getting around the campus, meeting with all of the staff in the division. "I want to get to know everybody and to establish a rapport with them. I wanted to talk with each one individually to see how I can support him or her."
A first-generation college student himself, Holland says he can relate to the College's student body and its mission, vision and values.
"Tri-County is about community and opportunity. It's important to engage our community and to embrace our students and to equip them with the skills necessary to be successful in life," he said.
"That in itself, the mission of the College, resonated with me as an individual. It matches my mission, values and ethics -- my dedication to helping people," he added.
Most of his career has been devoted to helping people, predominantly in education.
After earning his bachelor's in Business Administration from Southern Wesleyan in 1986, Holland began his career as Assistant Men's Basketball Coach at Anderson Junior College (now Anderson University). Holland then accepted the position of Assistant Coach & Head Recruiting Coordinator at Tennessee Tech for the Men's Basketball Program, before later returning home to work as a counselor for the S.C. Vocational Rehabilitation Department in Seneca. In 1991, a year after earning his master of education degree in Student Personnel Services from Clemson University, he joined SWU as Director of Student Services, leading the activities, programs and staff for students on the main campus and four learning centers across the state. He served as Director of Program Operations from 2000-2002 and was promoted to Associate Vice President for Program Operations and supervised the Division of Program Operations, Division of Student Services, Department of Chaplain Support Services and the Educational Resource Department.
In 2004 he was named Vice President for Adult and Graduate Studies at SWU. In this position, he provided overall direction and short- and long-term strategic planning for the Adult and Graduate Studies Division. He also supervised academic programs and services rendered to the 2,000-plus students at five major learning centers and two minor locations.
He served on the Provost Academic Leadership Team, Graduate Admissions Committee, Career Services Task Force Team, and the University Planning Council and was a voting member of both Academic Council and University Faculty.
He has been an active member of Consortium for the Advancement of Education since 1991 and participated in the Rotary International Year 2000 Group Study Exchange Program.
He is active in the Oconee County community as well, serving as past president of the PTO at J.N. Kellett Elementary School and as a current member of the Parent Teacher Advisory Council for the Oconee County School District. He is a member of New Jerusalem Christian Ministry and served as its treasurer in 2005 - 2006. He also is a member of Oconee Leadership Team.
Holland and his wife, Lisa, live in Seneca and have two children, Kianna, age 11, and DJ, seven months.