Tri-County Student Receives AKC/Hartz Veterinary Technician Scholarship

FOR IMMEDIATE RELEASE 10/31/2006
(By Lisa Garrett)
PENDLETON --- Amber Landacre spent last summer living at the beach and working at the Brevard Zoo in Melbourne, Florida, as part of an externship program for Veterinary Technology majors at Tri-County Technical College.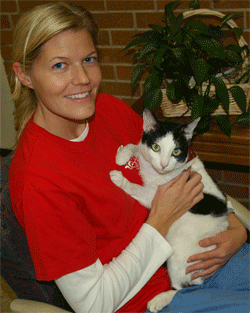 "It gave me an opportunity to explore different branches of veterinary medicine and got my foot in the door. It was the highlight of the year. I even got to observe a C-section being performed on an oryx (a member of the antelope species) and assisted in surgery as an anesthetist," said the Greer resident, who wrote about her experiences when applying for American Kennel Club/Hartz Veterinary Technician Scholarship earlier this year.
She was among the 31 veterinary students in the United States, and the only one from S.C., who received scholarships totaling $37,000. Landacre received $1,000.
Scholarship recipients must be full-time students at an American Veterinary Medical Association-accredited veterinary technician school and be a National Association of Veterinary Technicians (NAVTA) student member. Winners were selected on the basis of academic achievement, activities in small animal medicine, exotic medicine, research, and activities in NAVTA and SC NAVTA. Last year Tri-County Technical College's student chapter of NAVTA was named the Student Chapter of the Year. This was the first time Tri-County's chapter has submitted a nomination and the 15-year-old chapter's first national accolade.
After graduating from USC at Spartanburg with a Business Management degree, Landacre began working at the Pet Vac Animal Hospital in Spartanburg where she got on-the-job training but realized she needed a Veterinary Technology degree to work as a technician and entered Tri-County. She currently works at the Blue Ridge Animal Hospital in Greer.
After graduation next May, she plans to pursue a career working with exotic animals. "I'm also a diver so that opens up career opportunities to work at aquariums," she added.