Dr. Valerie Ramsey Honored with Distinguished Alumni Award
FOR IMMEDIATE RELEASE 5/5/2006

CONTACT: DR. VALERIE RAMSEY, 656-2073
(By Lisa Garrett)
PENDLETON --- Dr. Valerie Ramsey says receiving Tri-County Technical College's Distinguished Alumni Award is the ultimate honor and especially meaningful for her because it's where she got her educational start.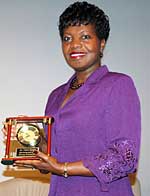 "Tri-County is the foundation for all my educational experiences and where my life was changed," said Dr. Ramsey, who received this annual award highlighting her dedication to her alma mater at the College's annual awards ceremony.
The recipient of this award must have been awarded a degree, diploma or certificate from Tri-County; must have graduated at least one year ago; and must have made significant contributions to the College, the Association, or the community.
"I am deeply touched that the College's Alumni Association selected me for this prestigious award. It means more to me than words can express to have been honored in this manner by my beloved first alma mater as the 2006 Distinguished Alumni," said Dr. Ramsey, a 1988 alumna of Tri-County's Arts and Sciences Division.
"This is the ultimate honor! I will display the award with pride and joy, and I will cherish it for the rest of my life! Talking about how great Tri-County Technical College is has never been a struggle for me, and this just makes talking about the College even sweeter," said Dr. Ramsey, who is the Chief Business Officer for the College of Health, Education, and Human Development at Clemson University and the first alumna appointed by the governor to serve on Tri-County Technical College's Commission.
"I appreciate my family, special friends and mentors, and co-workers for coming to support me on that very happy day in my life," she added.
Back in 1975, a 21-year-old Ramsey entered Tri-County's secretarial classes through the federally-funded Comprehensive Manpower Program. She was a single parent who was looking for a chance at a better life that would one day enable her to support herself and her five-year-old daughter.
"Today I can still recall that same feeling I had when I rode up Highway 76 on my way to my first college classes. Every time I visit the campus it takes me back to that day when my life turned around," said Dr. Ramsey, who credits the College as the vehicle that propelled her to rise above her circumstances. "Tri-County is more than an institution of higher learning. It is a place where life-changing seeds are planted and nurtured."
It's not always how you start out, but how you finish, said Dr. Ramsey "My family's track record in higher education at the time that I came to Tri-County (1975) was almost non-existent. Going to college was never considered an option and really wasn't even discussed," said Dr. Ramsey.
"Looking back, I realized there were some barriers, real or imagined, that needed to be reckoned with," she said. She dropped out of school at age 16 to become a teenage mother. She did return, repeating the 10th grade and earning her diploma. "I consider that one of the most difficult things I have ever had to do in my life," she said. "Repeating the 10th grade was a pivotal moment in my life."
College became an unexpected reality when friends told her about Tri-County's Comprehensive Manpower program that provided financial assistance to eligible students. "Tri-County was adult friendly, and faculty members were always willing to help in whatever ways they could to ensure that the set standards were met. They never expected less of me," remembered Dr. Ramsey. "It was a beautiful experience. Everyone wanted me to succeed," she added.
She worked as a secretary at Clemson University for the next 10 years, and then began taking university transfer classes at Tri-County during her lunch hours and evenings.
"I knew I needed to further my education to advance in my career," she said. She graduated in 1988 and later earned her bachelor's degree in Human Resource Management from Southern Wesleyan University, followed by a master's in Human Resource Development in 1995 from Clemson University. She earned a doctorate in Educational Leadership in Higher Education from Clemson in 2003. Dr. Ramsey is back in the classroom again, this time pursuing a master of ministry degree at SWU.
Dr. Ramsey has begun telling her story at national speaking engagements. Last December she was selected to speak to community college leaders in a keynote address at the Benefactors Awards Banquet at the Council for Resource Development conference in Washington, DC. "It was quite an honor," said Dr. Ramsey, who tailored her remarks around the theme of the conference -- lighting the way. "Community colleges are streetlights in dark neighborhoods. Ignorance is darkness, and community colleges are the way out of the darkness," she said.
"Someone showed me the way many years ago," she added. "When we know the way, we can show others. I'm more convinced than ever that community colleges are our nation's best weapon in the fight against economic divide. We can transform our nation through training and quality education."
She is scheduled to deliver the commencement address May 6 at Brazosport Community College in Texas.
"Education is powerful. I believe in Tri-County. And I believe it is an awesome vehicle to transform lives. I'm a living example that anything can happen," she said.