Tri-County First to Acquire Surgical Simulator

FOR IMMEDIATE RELEASE 11/27/2006

CONTACT: DR. LYNN LEWIS, 646-1437
(By Lisa Garrett)
PENDLETON --- This past summer Tri-County Technical College became the first community college in the country to acquire a surgical simulator and integrate it into its Surgical Technology clinical procedures. The simulator allows students to practice dexterity skills used in laparoscopic surgeries in the operating room, enhancing their confidence and promoting proficiency in a safe environment.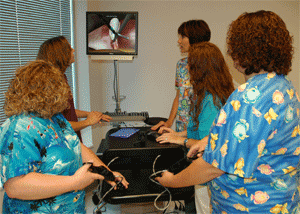 Earlier in 2006, the Veterinary Technology Department was the only community college in the United States chosen to receive Pepper, a prototype canine simulator used to teach anesthesia techniques to veterinary students. Tri-County is the only Veterinary Technology Department in the world to have this simulator and hopes to serve as a Beta test site as Pepper develops into a fully computerized canine simulator. The other canine models are located at the University of Florida's College of Veterinary Medicine and are at the University of California at Davis College of Veterinary Medicine. Pepper, the simulcast head of a grown Labrador Retriever, will be invaluable in teaching canine intubation skills by giving students more confidence in handling emergency situations before they work with live animals.
These are just two of the five cutting-edge teaching tools, in some cases one-of-a-kind models, that are enriching the classroom experience of health education students because of generous donations primarily from The Abney Foundation, Blue Cross/Blue Shield, local hospitals and individuals. Medical Education Technologies, Inc. (METI), the manufacturer of these simulators, donates a $1,000 nursing scholarship annually for students who are interested in simulation learning.
"Tri-County's Health Education Division has the first fully equipped virtual lab in the State," said Dr. Lynn Lewis, dean of the Health Education Division.
Two years ago, The Abney Foundation funded three human patient simulators, which are physiologically correct, computer-driven models designed to look and respond like real patients. Nicknamed STAN for Standard Man, these adult simulators teach students how to care for patients in a safe, simulated environment before they work with actual patients. Two of the human patient simulators are housed in the Hayden Abney Fulp Health/Science Building, and one is in the Corporate & Community Education Division for its Emergency Medical Technician training.
In the last year, the College also added a child and an infant simulator to labs. To complete the virtual labs as "full service," there are two IV simulators used to develop, refine, and maintain IV and phlebotomy skills for students.
"Hands-on experience is the best teacher," said Dr. Lewis. "Simulators allow (instructors) to simulate specific situations by programming the physiology while students build confidence in their own critical thinking and decision-making skills. The results can be safer patient care in the hospitals because students can make mistakes and learn from the consequences in the virtual safety of the lab before working with patients.
"The beauty of simulators is that students can fail in safety," said Dr. Lewis. The simulators allow for teachable moments in certain scenarios that you simply can't do in a patient's room.
"Our goal is to provide safe, competent, and confident graduates in all of our health care areas. This is all possible because of amazing friends like the Abney Foundation, Blue Cross/Blue Shield, local hospitals and individuals," she said.