Tri-County's First MISTER to Transfer to Clemson
FOR IMMEDIATE RELEASE 5/5/2006

CONTACT: DR. GWEN OWENS, 646-1429
(By Lisa Garrett)
PENDLETON --- Looking back, 26-year-old Tony Webb can recall only a handful of male teachers during his elementary or middle school years. The educational landscape is similar today, but the Call Me MISTER program is looking to change the face of education in America by putting more African American males in the classroom as teachers and role models.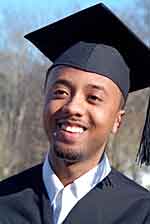 Nationally known and in its seventh year, Call Me MISTER is a scholarship teaching program developed by Clemson University to meet the shortage of African American male teachers in South Carolina's elementary schools. Webb, who will receive an associate in science degree at Tri-County Technical College's commencement May 6, is the College's first graduate, or MISTER, to enter the program where black males are recruited, trained, and certified to become elementary teachers in S.C.'s public schools. The program is a collaborative effort between Clemson and Benedict College, Claflin University, South Carolina State University, Morris College and others. Last year, Tri-County was among the four technical colleges chosen to be partners with Clemson, and each two-year college received a $10,000 grant to expand and promote the program.
The first group of MISTERS graduated from Clemson in 2004, and Tri-County accepted five men, including Webb, into the program two years ago.
Webb always wanted to be an elementary school teacher but was discouraged by the starting pay for teachers. He entered a more lucrative major, Computer Technology, but was re-energized about the teaching profession after finding the Call Me MISTER program on the Internet.
"The program lured me back to education. I've always wanted to be a teacher. I was a teacher cadet in high school. And now I'm pursuing that goal," he said. This fall he will transfer to Clemson as part of the partnership. As academic coach for these young men, Dr. Gwen Owens, dean of the Arts and Sciences Division, actively recruits for the program. "I work closely with department heads and advisors to get the word out. And our young men are great ambassadors for the program."
"I'm involved with the Clemson MISTERS," said Webb, "and we're able to travel to meetings, like a National Education Association convention in Washington, DC, to meet other program participants and graduates and to talk about our experiences. We all have a common bond, and I've received encouragement from those who are already teaching."
"There are already qualified African American males in the educational pipeline who would make excellent candidates for the program," said Dr. Owens. "They just need to hear the message from Tony and others. Teaching is stressful, but it is truly a rewarding career," added Dr. Owens, who taught for 19 years in the public schools. "Many may be initially turned off by the starting salaries of teachers, but, like Tony, they realize they can make a long-term difference. Not just for the moment, but they can have a lifetime impact on young people's lives."