Richard Kingman Receives Adjunct Faculty Presidential Award at Tri-County Technical College
FOR IMMEDIATE RELEASE 5/2/2006

CONTACT: LISA GARRETT, 646-1506
(By Lisa Garrett)
PENDLETON --- Richard Kingman, an instructor in the Computer and Information Technology Department at Tri-County Technical College, is the recipient of the 2006 Adjunct Faculty Presidential Award at the College.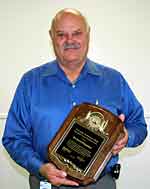 This award is given annually at the faculty/staff convocation to the adjunct faculty member who is recognized for excellence in teaching, who has consistently high student evaluations and who supports the philosophy and goals of the College.
Kingman, who has served as an adjunct instructor at the College for the past six years, is owner of Rijen Company and is retired from the Air Force Reserves after 24 years as a Lieutenant Colonel Master Navigator.
"Richard's commitment and work ethic serve as a role model for the entire department," said Phil Smith, Computer and Information Technology department head. "He comes to work every day enthusiastic and positive. Richard brings an experiential perspective to the classroom, often demonstrating real-world examples and scenarios from his own personal experience to illustrate the day's topic," Smith added.
During his tenure at Tri-County Kingman has taught a full load and doesn't hesitate to accept additional duties, said Smith, including volunteering to teach an early bird class (6:45 a.m.) at Wren High School. "Throughout that semester his commitment to those classes was a primary factor in making it the successful experience it was," said Smith.
In addition to teaching, Kingham devotes time to curriculum development and serves as an adjunct representative on the Faculty Senate.
"Richard's commitment to Tri-County goes far beyond the classroom teaching of his classes," said Scott Moser, an instructor in the department. "As expected he does an outstanding job in the classroom, leading and guiding his students, but the time he spends in activities beyond those obligations is substantial and exemplary."
Moser noted that he was the driving force in setting up the Technology Club to draw students together outside the classroom to enhance their technical knowledge.
"Richard is a role model for all faculty at Tri-County -- full time and adjunct --and I count myself lucky to have him working for my department," said Smith.
Kingman and his wife, Jenny, live in Powdersville and have one son.