Janet Fuller Receives A. Wade Martin Innovator of the Year Award

FOR IMMEDIATE RELEASE 3/20/2007

CONTACT: JANET FULLER, 646-1343
(By Lisa Garrett)
PENDLETON --- Janet Fullerís creative efforts in the classroom and in collaborative ventures with area high schools and colleges earned her the esteemed A. Wade Martin Innovator of the Year award.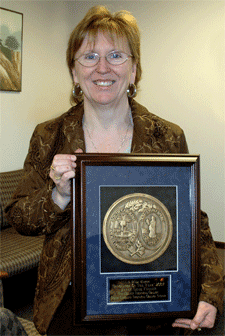 Fuller, department head for the associate degree Nursing (ADN) and Practical Nursing departments at Tri-County Technical College, was singled out among seven state technical college nominees and accepted the award at the 2007 South Carolina Technical Education Association conference last month. The Innovator of the Year award is named in honor of A. Wade Martin, the first executive director of the technical and industrial training program in South Carolina. The award was established to recognize individuals in the technical college system who employ innovative approaches to meet the ever-changing needs in the technical education arena and whose achievements assist in statewide economic development and the education of students.
"This has been such a wonderful year. The College has been recognized for innovative partnerships in our department," said Fuller, emphasizing the word department. "This truly is a departmental effort -- they're not just my ideas. Everybody contributes to innovative ideas, and everybody makes them work," the Seneca resident said, referencing the LPN to Professor initiative with the four area hospitals and Clemson University and Tri-County's upcoming campus at the Hamilton Career Center.
Last year, Tri-County partnered with the Oconee County School District and Oconee Memorial Hospital to develop a collaborative articulation agreement to expand nursing opportunities for Oconee County high school students. The result is a seamless pipeline for high school students to take courses in the health profession and then articulate to Tri-County.
This fall Tri-County Technical College at the Hamilton Career Center will open with 24 students and new anatomy and physiology labs and classrooms.
"Juniors and seniors at the Hamilton Career Center will take high school classes and dual enrollment classes and will be fast tracked into the LPN programs," said Fuller. "They can feasibly graduate in less than a year."
She added, "This gives them a head start on classes, and their general education classes will be RN requirements so they can roll into the RN major if they choose." The first LPN class will graduate in 2008.
"Janet Fuller was one of the creative forces behind this successful planning, and she worked tirelessly to make the challenging transition workable," said Dr. Valerie Truesdale, superintendent of the Oconee County School District. "She developed the curriculum pathway model, assisted in planning the new facility, articulated equipment needs and identified grant funds to obtain equipment comparable to Tri-County's home campus programs, and educated the teachers and guidance counselors in the school district about the transition." said Dr. Truesdale.
"Janet's commitment to thinking non-traditionally (outside the box) helped our school personnel see that we can provide college for all students, in an accessible location, in their fields of interest. As a result of this collaboration, Tri-County will offer not only Practical Nursing but the full complement of first-year college courses, as well, all at Hamilton Career Center in Oconee County. Thanks to Janet Fuller and other creative, dedicated minds at Tri-County, we are bringing college to Oconee County."
Another collaborative initiative, the LPN to Professor program, joins four area hospitals – AnMed Health, Cannon Memorial Hospital, Oconee Memorial Hospital, and Palmetto Health Baptist-Easley –with Clemson University and Tri-County to address the future shortage of nurses in the workplace, as well as the need for more nursing educators. Under Fuller's direction in 2005, the College began implementation of LPN to Professor, a three-year, innovative national model funded by the hospitals, with significant grant support from The Duke Endowment.
With more nurses earning advanced degrees, the colleges will have a ready supply of faculty needed to maintain and expand their nursing programs. Part of the funding will enable Tri-County and Clemson University to add nursing faculty and staff immediately. In turn, this allows the colleges to increase enrollment in their nursing schools, doubling the number of nurses graduated each year. The initiative offer nurses a unique opportunity to advance their education while continuing to work full-time.
The first evening class will graduate in December.
"I recognize and applaud the consistent results of excellence that she achieves," said Dr. Lynn Lewis, dean of the Health Education Division. "Janet is well balanced in her approach to problem solving and has the ability to identify an issue or opportunity in a holistic way. She does not hesitate to question a practice or a policy when needed and approaches work with a viable sense of doing what is best for our students and for the faculty."
Since joining the College in 2001, Fuller has dedicated herself to being an advocate for both students and faculty, with a focus on integrating technology into instruction by using human patient simulators to create real-life patient care scenarios for her students. These human patient simulators allow instructors to simulate specific situations by programming the physiology while students build confidence in their own critical-thinking and decision-making skills.
Fuller earned top marks from her colleagues and a designation as Tri-County's finest faculty member last year when she received the highest award presented to the faculty, the Presidential Medallion for Instructional Excellence.
She continues to develop as a nursing education leader by participating in the Educational Leadership Certification Program at the University of South Carolina. She represents Tri-County as one of the two individuals selected for USC's executive leadership studies this year. She also takes Corporate & Community Education classes at National League for Nursing and South Carolina Technical Education Association conferences. In addition, she is an accreditation site surveyor for the National League for Nursing and is a test question writer for NCLEX as a National Council of State Boards of Nursing selection.
Fuller is active in her community through her support of Hospice and is past chair of Tri-County's Communities Health Charities for S.C.
She came to Tri-County from the Cabarrus College of Health Sciences School of Nursing where she worked for a decade as an instructor in the School of Nursing. She also worked as an ICU staff nurse at Presbyterian Hospital in Charlotte, NC, for several years. She served in the U. S. Navy from 1975 - 86. She holds an R.N. diploma from the Marion County General Hospital School of Nursing and B.S.N. and M.S.N. degrees from UNC-Charlotte. She is a member of the American Association of Critical Care Nurses and is certified in critical care. She also is a member of Sigma Theta Tau. She and her husband, James, have two children, Johanna and Jennifer.