Jackie Blakley Named Dean of Tri-County's Business and Public Services Division

FOR IMMEDIATE RELEASE 1/2/2008
CONTACT: JACKIE BLAKLEY, 646-1305
(By Lisa Garrett)
PENDLETON --- Jackie Blakley, of Anderson, has been named dean of Tri-County Technical College's Business and Public Services Division. She will assume her position January 1, replacing Martha Addis, who will retire in March 2008.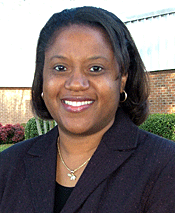 Mrs. Blakley will be responsible for three departments -- Computer Information Technology, Business Technology and Public Services – and their programs of study which enroll around 1,100 students.
She joined the College in 1996 as a Business Technology instructor and two years later was named department head. In 2000 she was the College's nominee for the South Carolina Technical Education Association's (SCTEA) outstanding instructor of the year.
She is a graduate of Leadership Anderson and Discover Anderson. Currently she serves on the Leadership Anderson's Board of Directors. She also serves on the School Improvement Councils for Riverside Middle and Mount Lebanon Elementary schools. She is former member of the Anderson District 5's Business and Industry Council Advisory Board
She is a member of the South Carolina Business Education Association, the American Association of Women in Community Colleges and Delta Sigma Theta Sorority, Inc.
Mrs. Blakley holds a bachelor's degree in Business Administration from the University of Georgia and a master's in Business Administration from Clemson University. She began her career at Cryovac in 1992 as a team resource leader and later worked as an accounting analyst for the company.
She and her husband, Milton, have three children. They live in Anderson and are members of Generostee Baptist Church.