John Benson, director of World Class Training Center, Retires from Tri-County Technical College

FOR IMMEDIATE RELEASE 12/13/2007
CONTACT: JOHN BENSON, 646-1717
(By Lisa Garrett)
PENDLETON --- "The best day's work I ever did was hiring John Benson," Dr. Neil Lark said at a retirement party celebrating Benson's 12 years with Tri-County Technical College's Corporate & Community Education Division, first as an instructor and later as director of the World Class Training Center.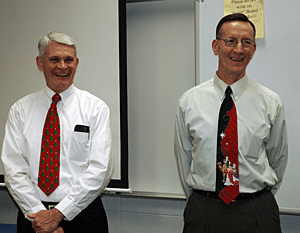 The World Class Training Center is Tri-County's direct link to the business and industry community for its immediate training needs, and for 10 years John has been the person responsible for the management and delivery of a comprehensive program of courses that meet the occupational training needs of business and industry.
"How often we hear good words about John and his leadership," remarked Dr. Lark, dean of the College's Corporate & Community Education Division, who met Benson at WestPoint Military Academy "We'll miss John, but I look forward to continuing this friendship in another vein."
"John leads by example," said Glenda Strickland-Mize, a member of the Corporate & Community Education team. "I always ask myself 'what would John do' because it would be the right thing to do. I always try to follow his example."
"His character is unquestionable, and his friendship is special," said Joy Bryant, executive director of Southern Wesleyan University's Alumni Relations and who was in graduate-level classes with Benson at SWU. "John makes a difference in his community, his home, and his work environment."
"You are all wonderful folks here at the College," said Benson. "The WCTC team is a superior group of people to work with. They are talented and dedicated, and their hard work is the reason for our success. I will miss coming to work to see everyone."
Benson's last day at the College is December 20.