Hardin Named Top Dental Assisting Student in State
FOR IMMEDIATE RELEASE 5/31/2006

CONTACT: DONNA SHANNON, 646-1347
(By Lisa Garrett)
PENDLETON --- A Tri-County Technical College Expanded Duty Dental Assisting student has been named the top dental assisting student in the State. Kerri Hardin received the Mary M. Clary Award for Assistant of the Year at the South Carolina Dental Association's annual meeting in Myrtle Beach May 7. This is the first time that a Tri-County student has won this prestigious award that recognizes leadership ability and dedication to the profession.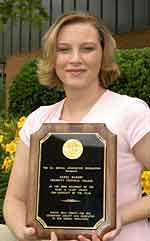 Hardin received a complimentary stay in Myrtle Beach, a check for $1,000 and a plaque.
"I'm so honored to be chosen from 12 nominees from across the State," said Hardin, who will graduate in August. "Having this award on my resume shows that I proved myself in school and that I can be an asset to the workplace."
"Kerri is sincere in her professional goals," said Donna Shannon, Allied Health department head at the College. "She is an excellent student, has a good dental team approach and will be strong leader for the dental assisting profession."
Hardin is the daughter of Pam and Terry Moore, of Tamassee. She and her husband, Ryan, also live in Tamassee.