Gateway's First Class Gets Second Chance

FOR IMMEDIATE RELEASE 11/27/2006

CONTACT: NITA COLMAN, 646-1542
(By Lisa Garrett)
PENDLETON --- Catie Pekarek feels like she's been running behind her whole life.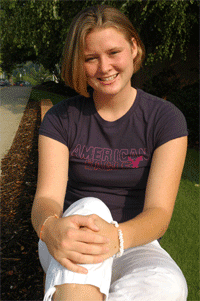 After years of enduring an abusive home life as a young girl, she entered the foster care system where she lived in seven different homes and changed schools as many times over in an eight-year period.
At age 16, she left Seneca High School just five credits shy of a diploma, and went to live for a year at the Wilderness Way Girls Camp in Fair Play, a therapeutic environment where she says she learned how to deal with her past.
That's when things turned around for the 17-year-old Walhalla resident.
She's through playing catch up. The past is behind her. She's found a new home with her adoptive parents. She's on track, happy and has returned to school.
She's among the first class of students in Tri-County Technical College's Gateway to College program, a new initiative designed to serve at-risk students and recent high school dropouts in Anderson, Oconee and Pickens counties. This fall Tri-County's Gateway to College program enrolled 50 students who will begin the journey of earning their high school diploma while simultaneously earning a postsecondary credential.
Tri-County was among four community colleges in the United States selected this year to receive grants from Portland Community College in Oregon to implement the nationally recognized Gateway to College program on its campus. Its purpose is to serve the needs of students who have recently dropped out of high school or who have the academic capability but are struggling in a traditional high school environment. Students' tuition is covered by South Carolina Lottery Tuition Assistance and other College and grant programs, and the College's Foundation, along with the Workforce Investment Act grant, is funding the books.
Students complete high school and college courses at the same time, basically remediating and accelerating their academic studies simultaneously. Students start with a small learning community experience consisting of comprehensive academic and guidance classes, helping to build their academic competence and their confidence while acclimating them to the college environment. The program is designed for those with the expressed goal of earning a high school diploma and a college credential.
"I'm so happy. I've finally got a new life," said Catie, who says she witnessed and endured years of emotional and physical abuse from her biological parents until their parental rights were terminated.
"I grew up at an early age and really survived by the grace of God," she said. "I have a strong faith. It's a miracle that I'm alive. Considering my home life, my grades were good, but I didn't apply myself in school. I was distracted and dealing with things. The Wilderness Camp really turned things around for me."
After she left the camp, her new mother, Ruth, suggested she enter the Gateway program. "It's the right thing to do. I had matured. I didn't want to get my GED. The program appealed to me because I can get a high school diploma and work on college courses. I'm here to focus on school. This is my second chance. My first chance was taken away by life. I wasn't given a fair shot, but I will make the most of it. I want to study world religion and work as a missionary or in youth ministry." She has her eye on Toccoa Falls after completing a University Transfer degree at Tri-County.
"Thanks to the Gateway program, I've been handed a second chance to accomplish my dreams," she said.
"Through hard work and the encouragement that students are getting from our faculty and staff, they are learning they can do it," said Nita Colman, director of Gateway to College. "The students' resource specialist serves as a teacher, counselor, coach, and mentor. The small learning communities are perfect for the Tri-County environment and are targeted to assist the students to become successful college students," added Colman.
Portland Community College is one of 12 partner organizations in the national Early College High School Initiative funded by the Bill & Melinda Gates Foundation, the Carnegie Corporation of New York, The Ford Foundation and the W.K. Kellogg Foundation.