College, Community Dedicate Anderson Campus
FOR IMMEDIATE RELEASE 8/28/2007

CONTACT: LISA GARRETT, 646-1506
(By Lisa Garrett)
PENDLETON --- The best indicator of a master teacher is when graduates return to their alma mater specifically to see the professor who made a difference their lives. "Frank Breazeale is one of those instructors," Dr. Ronnie Booth, president of Tri-County Technical College, said at a July 30 reception honoring Breazeale's retirement from the College. Since 1973 Breazeale, a Pendleton resident, taught biology at the College and was named Science Department Head in 1989.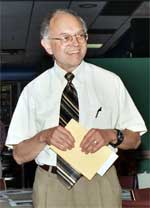 Former co-workers, friends and family turned out in droves to wish Breazeale well and to make several presentations, including an unexpected gift from friend and former colleague Dr. Tim Marshall, principal scientist at St. Jude Medical CRM, and the company itself to establish a fund in honor of Breazeale's retirement. The monies are designated for the Science Department's needs. "I am grateful for all the ways everybody made my retirement wonderful. There are no adequate words to describe my appreciation," said Breazeale, who was honored with the College's Presidential Medallion for Instructional Excellence in 1993 and the following year received a NISOD Excellence Award in recognition of his outstanding contributions to teaching and learning. During his tenure, he was called upon frequently for his musical talents and often provided the piano or organ music for such College functions as pinning ceremonies, commencements, annual report luncheons, and awards programs.
"Frank definitely left a mark on Tri-County in his 30-plus years of teaching," said Dr. Marshall, who taught physics and chemistry as an adjunct instructor at Tri-County from 1994 – 97. "Frank hired me at Tri-County when I needed a job," he said, "and I wanted to repay Frank and the College for giving me the opportunity to teach. Frank and his instructors always made me feel a part of the family. This is my way of honoring him and the department," Dr. Marshall said of his contribution.
Galen DeHay, who took the reins as department head this month, has just as much admiration for Breazeale as his past students and joined the entire Science faculty in calling him 'Papa Frank.' "Karen (Linscott) started that and it caught on. Everybody calls him that because he's like a father figure to everyone. Personally, he was a mentor for me, an individual who I could always sit down with and get encouragement from," said DeHay.