Wren Senior Wins Tri-County's Engineering Competition

FOR IMMEDIATE RELEASE 7/31/2006

CONTACT: STEPHANIE EVANS, 646-1517
(By Lisa Garrett)
PENDLETON --- Eric Strasser's roller coaster creation, Time Blaster, snagged the first-place prize in Tri-County Technical College's Camp Xceleration competition, but he says every competitor walked away a winner.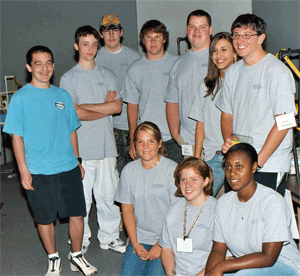 "Everybody won because each participant left with new friendships and fun experiences," said Strasser, a rising senior at Wren High School. He received an $800 scholarship from Tri-County Technical College and an I-Pod shuffle. Other winners were Brandon Grant, a senior from Pickens, second place; Jennifer Pominville, a junior from Williamston, third place; James Bensen, a sophomore from Anderson, fourth place; and Matthew Wilson, a sophomore from Anderson, fifth place. Their prizes included a 13" television from HH Gregg, a $30 gift card from Fatz Café, four movie passes from Regal Entertainment Group, four Six Flag tickets and items from Tri-County's bookstore.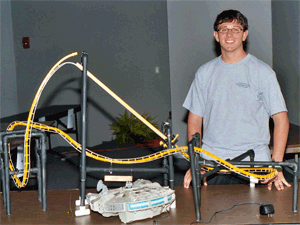 Twelve students participated in the week-long camp, held in June for rising 10th, 11th and 12th graders in Anderson, Oconee and Pickens counties. Their mission was to spend a week learning to build a roller coaster and later compete in an engineering competition for prizes and scholarships.
The purpose of the camp, funded by grant funds awarded to the Partnership for Academic and Career Education at Tri-County Technical College, was to encourage students in the fields of Industrial and Engineering Technology, said Stephanie Evans, academic advisor for the Industrial and Engineering Technology Division at Tri-County and the camp's coordinator. "It also gives them the opportunity to combine creativity and fun with the knowledge learned at the camp."
During the week, students learned about roller coaster invention/engineering competition. Each student was provided with a kit consisting of materials to be used in designing a working roller coaster. Students had one month to design and build their rollers coasters before returning to the College July 21 for the competition. Scoring was based on creativity, functionality, and cost of the roller coaster.
"The projects were extremely creative," said Evans. "Their designs went beyond our expectations. They took it seriously, and faculty and judges were impressed," she said.
"It was great -- they were all rooting for each other. They were exchanging phone numbers the last day and making plans to get together. You can't force camaraderie like that -- it just happens," added Evans.
In addition to forging friendships, Evans said the camp exposed them to the varied careers in the Industrial and Engineering Technology fields.
"The camp was definitely a success on all levels," said Evans. "We wanted to do something fun, to get involved with the community and to expose high school students to what we offer at Tri-County. It gave the Division's programs exposure and encouraged kids to consider engineering careers. All of our student evaluations were excellent; their only comment was they just wished the camp was longer. So we're looking at two weeks next year."
Strasser, who is interested in studying civil engineering, can't say enough about the camp. "The people were awesome -- we became friends and had a ton of fun. I can't wait to tell my friends at school about the camp."