Teamwork is Key to Success of EGT Senior Project

FOR IMMEDIATE RELEASE 3/16/2007

CONTACT: EUGENE GRANT, 646-1341
(By Lisa Garrett)
PENDLETON --- Jonathan Maxwell has existed on about six hours of sleep nearly every day this semester, but you won't hear him complaining.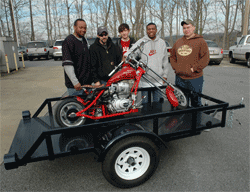 Weekdays, the 22-year-old leaves his third-shift job at Electrolux at 7 a.m. and heads to Tri-County Technical College where he puts in another six hours in Engineering Graphics Technology (EGT) classes and labs and serves as project manager of the class's senior project.

"I'm learning so much. In addition to the EGT classes preparing me to be a mechanical designer, this senior project has taught me communication skills, teamwork and compromise," said Maxwell, a Westside High School graduate.

Each year, the EGT senior class uses its last semester to work on a capstone project whereby students take all of the skills they have learned in the previous semesters and create a mechanical design project. For the past eight years, class members have accepted an assignment from local companies, but this year Industrial and Engineering Technology Division Dean Eugene Grant gave the group an assignment to assemble a mini chopper purchased by the department and to test it for mechanical soundness.

"I had two objectives for this group -- to create a marketing/recruiting tool for the Division and for our students to have fun while learning these new skills," said Grant. Students are refining their design skills and have been picking up extra skills, such as machining, along the way, he said. "Everything they are learning is applicable in the manufacturing sector."

During the first two weeks, the class discussed and outlined the project. A project manager (Maxwell) and assistant manager (Averie Snelgrove) were elected, The team selected a company name, Innovative Design Solutions, developed a mission statement and assigned preliminary project tasks to each team member, said Snelgrove.

The team researched the project, developed a plan of action and presented the project proposal to Grant. After his approval, they began work.

"Teamwork is key," says John Norris, EGT instructor. "It's very important to this class and to the project's success. I watch them grow so much in their skills. "They really take ownership of the project. I'm here just to serve as a consultant. This is their design, and often it's not their only design. Students often are working simultaneously on up to five design projects -- just like in the real world," added Norris.

At the beginning of the semester, the team created a concept design and made decisions on what parts to re-engineer. The team has incorporated design changes to the gas tank, clutch and brake lever, foot pegs, handle grips, shift linkage, kickstand and chain guard. Once a new design was drawn, students made a virtual solid model on the Z Corporation 3-D printer using Mastercam coding. Next, they machined the actual parts. In addition, a trailer to transport the mini chopper was designed by the team and was constructed by Tri-County's Welding Department. The College's name was printed on the mini chopper.

"Organizational and management skills are refined as members must outline details with a timeline, just like in industry, said Snelgrove.

Norris calls a production meeting every Monday morning to discuss alternate design solutions, potential design problems and timelines.

"It keeps us on track. We have the same kind of responsibilities and deadlines and budget limitations as a real company," said Snelgrove, who has been working in the industry and returned to Tri-County full time to study 3D and brush up on her CAD skills. "There is a lot of teamwork. Everybody is responsible for his or her own tasks and deadlines. To successfully work as a team, each person has to be a contributing member and be self motivated."

Maxwell agrees. "Timelines and teamwork are essentials that can make or break you. Another plus is we can put this on our resumes."

A project of this magnitude increases their confidence level, said Norris.

"They got a real taste of what it's like to work for a company and the pressure to get a project done," said Norris. "This is what it's like in a real manufacturing environment. They are doing a good job, and they are ready to go into the workforce."

          The seniors will present their final product to Grant at the end of the semester.