Edie Hardin Wins SNA Presidentís Award of Excellence

FOR IMMEDIATE RELEASE 11/6/2006

CONTACT: LISA GARRETT, 646-1506
(By Lisa Garrett)
PENDLETON --- Since enrolling at Tri-County Technical College three years ago, 36-year-old Edie Hardin has embraced the role of student as passionately as she does motherhood and volunteerism.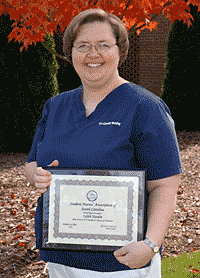 When she entered Tri-County for the first time in 1988 as a recent Pendleton High School graduate, it was just about getting a degree, she remembers. She returned to college 14 years later with the commitment to get the true community college experience this time around.
"I didn't want to be just a student," said Hardin, who is majoring in Nursing. "It's more than coming to class and going home. I wanted to be a leader in an organization, a volunteer on campus, and a student advocate. I jumped in feet first. By doing that, I have gotten more out of the college experience," she said.
Hardin was elected as Student Government Association president her sophomore year and Tri-County's Student Nurses Association chapter president the following year. She was named to the National Dean's List and Who's Who Among American Junior Colleges. Her GPA earned her acceptance into Alpha Zeta Beta, a national honor society, and this semester she served as a student representative during a site visit by the Southern Association of Colleges and Schools' reaffirmation committee.
"I had been working as an administrative assistant for 14 years before being laid off from an area plant," she said, "and as a returning non-traditional student, I understand that involvement adds to the total experience."
One of those experiences was the recent State Student Nurses Association (SNA) conference, where she won the President's Award of Excellence, the highest honor given by the State SNA to a college's SNA chapter president. She also was elected Secretary for the State SNA Board.
The annual convention is for nursing students who attend two- and four-year colleges and universities. Its goal is to promote professionalism in nursing. Through membership, students learn leadership skills and the legislative process of a professional organization.
"Edie has always been very involved and is the first one to volunteer," said Janet Fuller, Nursing department head and faculty advisor for SNA. "She is so positive about everything and sees the benefits, never the negatives. You can always count on Edie if she's committed to a project. Everything she does is 100 percent."
In addition to campus life, there's the community service work -- she's team captain for Relay for Life and is on the planning committee. She is a parent volunteer at Riverside Middle School and involved with Barrett's Place in Pendleton and the town's Recreation Department. She has served as chief scoring officer for Freedom Weekend Aloft's flying events. She and her husband also operate a part-time catering business.
What would exhaust some motivates the Pendleton resident. "But I couldn't function without my day planner," she said. "The more I do, the better I work. I truly like being busy. But I always make time for my family. They come first," she says of husband, Todd, and two children Myron, 14, and Georgeanne, 11.
Hardin is set to graduate in May 2007. She plans to pursue a nursing career in pediatric oncology.