Dr. Belle S. Wheelan to Address Class of 2006
FOR IMMEDIATE RELEASE 4/18/2006

CONTACT: MARY JOHNSTON, 646-1816
(By Lisa Garrett)
PENDLETON --- Dr. Belle S. Wheelan, the first African-American and female appointed as President of the Commission on Colleges of the Southern Association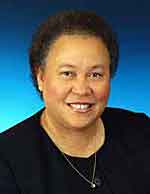 of Colleges and Schools, the accrediting body for colleges and universities in 11 states, will address Tri-County Technical Collegeís Class of 2006.

Around 350 graduates will be recognized at the annual spring commencement scheduled for May 6 at 5 p.m. at the Anderson Civic Center. In addition to families and guests of the graduates, alumni and friends of the College are invited to attend the ceremony.
Last June Dr. Wheelan began her new job of overseeing an organization that examines and accredits 787 institutions in 11 states, including South Carolina. She serves as the Commissionís liaison to the U.S. Department of Education and is a major voice for higher education regionally and nationally.

Dr. Wheelan received her Bachelor of Arts degree from Trinity University in Texas with a double major in psychology and sociology. While at Trinity University, she distinguished herself as an Academic Scholar. She was the first African-American at Trinity University to be named to Who's Who in American Colleges and Universities.
Upon graduation, Dr. Wheelan enrolled in Louisiana State University and received a Master of Arts degree in Developmental/Educational Psychology. She was hired as an assistant professor of psychology at San Antonio College and held that position for 10 years.
In 1982, Dr. Wheelan enrolled in the Community College Leadership Program at the University of Texas and earned a doctoral degree in Educational Administration in 1984. In 1992, she received the Distinguished Graduate Award from the College of Education at the University.
After obtaining her doctorate, Dr. Wheelan accepted the position as Director of Developmental Education at San Antonio College. She established a new administrative office and became the Director of Academic Support Services at the College.
In September of 1987, Dr. Wheelan moved to Virginia as the Dean of Student Services at Thomas Nelson Community College in Hampton, Virginia.
In August of 1989, Dr. Wheelan assumed the position as the provost (chief executive officer) of the Portsmouth campus of Tidewater Community College in Portsmouth, Virginia.
Dr Wheelan headed to Lynchburg in 1992 to accept the position of President of Central Virginia Community College. She is the first African-American female to serve as president of a two- or four-year public institution of higher education in the Commonwealth of Virginia.
She began her role as President of Northern Virginia Community College, the second largest community college in the nation, July 1, 1998.
In December, 2001, Dr. Wheelan was appointed the Secretary of Education to Governor Warnerís Cabinet. She was sworn in on January 13, 2002, and is the first African-American female to serve in this capacity. She served in that position until July, 2005.
Dr. Wheelan holds memberships in numerous state and national organizations, including the Presidents' Round Table of the National Council on Black American Affairs and the Jobs for Virginia Graduates Board. She is a member of the Board of Directors of the Northern Virginia Family Services, the American Heart Association, the Tower Club, the Virginia Economic Bridge and the Womenís Forum of D.C.
Dr. Wheelan is the mother of a 21-year-old son named Reginald.