Cheryl Allmon Receives Tri-County's Distinguished Alumni Award

CONTACT: LISA GARRETT, 646-1506

FOR IMMEDIATE RELEASE 5/14/2007
(By Lisa Garrett)

PENDLETON --- Cheryl Allmon says the two years she spent at Tri-County Technical College in the late 1970's inspired her to grow academically and personally, and she credits the College with igniting her quest for lifelong learning.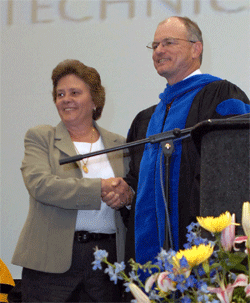 Allmon, a 1977 graduate of the Textile Management Technology program and human resource manager for Johnson Controls in Seneca, received the College's Distinguished Alumni Award highlighting her dedication to her alma mater. The presentation was made at the College's spring commencement May 11.
The recipient of this award must have been awarded a degree, diploma or certificate from Tri-County; must have graduated at least one year ago; and must have made significant contributions to the College, the Alumni Association or the community.
"I am honored by this award," said Allmon, who resides in West Union. "I told my husband that the only thing that would make this more special is if my father were alive to see this," said Allmon, who says at the time she received her Tri-County degree, she was the only sibling in her family who had the opportunity to go to college.
"Tri-County got me where I am today and taught me the value of education," said Allmon, who since has gone on to earn bachelor's, master's and doctoral degrees. "It laid the foundation for me to continue my education."
She graduated from Daniel High School in 1975 and entered Tri-County the following year on a full scholarship. "Tri-County was perfect for me because I needed to grow up," she remembers. While in high school she worked a mini-shift at Milliken (6 - 10 p.m., six days a week with Wednesdays off) and drove a school bus. While a student at Tri-County, she continued to work at Milliken as a dye machine operator and left there one year after graduating to enter a co-op with Duke Energy. She became a full-time employee the next year, beginning as a personnel clerk and advancing to human resource generalist. "Tri-County prepared me for future management jobs and for what to expect in the real world," she said. "My degree was a tool for advancement," said Allmon, who was human resource consultant when she left Duke Energy in 2001 to remain in Oconee County and be close to her family.

She continued her education at Limestone College in 1979, earning a Business Management degree in 1983. "I didn't stop learning. I knew without an education, I wasn't going to have the opportunity to progress in the workforce," she said. She took a break from the classroom for several years and married her husband, Jerry, in 1988. She entered a master's program at Southern Wesleyan University in 2000 and graduated in 2003 in the Business Management program. She moved right into the doctoral program at Kennedy Western University and earned a Doctor of Philosophy degree in Business Administration in August 2005.
She began her job at Johnson Controls in 2006. Every day she stresses the importance of education to the company's workforce and offers advice and assistance. "When associates come to me, I point them in the direction of Tri-County. I say to them, 'let me help you.' Our company has a tuition reimbursement program. That makes pursuing a degree do-able. I know it's hard to juggle work and family time. I've done it. But it's worth it."
Allmon says a two-year degree is a stepping stone. "It's affordable, and in my case, it provided an opportunity to grow. You can go to Tri-County, get your liberal arts degree and grow over the next two years. You are ready for employment or to transfer to a college.
"We're lucky at Johnson Controls where we have a young workforce that is eager to learn. We have several associates pursuing degrees at Tri-County now. I start to see a difference in their maturity level around the second semester. By graduation they see the workplace in a different light. You see a change in the growth level as employees and as individuals," she said.
Allmon has long taken advantage of Tri-County and its resources by hiring graduates and by calling on the Center for Accelerated Technology Training (CATT) program. "The first call I made when I began my job at Johnson Controls was to the CATT office asking for a training program," she said. Years ago she discovered that CATT can provide a customer-driven training program – at no cost to the employer – for new and expanding industries.
"I value Tri-County for what it brings to the three-county area. The College has always been there for me, especially as an 18-year-old straight out of high school, and it's there for me now," she said.