Tri-County Bluegrass Concert is Free Family Event Featuring Bands, Fireworks

FOR IMMEDIATE RELEASE 1/13/2006
CONTACT: REBECCA EIDSON, 646-1507
(By Lisa Garrett)
PENDLETON --- Asheville-based Steel String Theory will headline a trio of bluegrass artists, including perennial fan favorites Curtis Blackwell and the Dixie Bluegrass Boys and Al Osteen and Friends, at Tri-County Technical College's first Annual Bluegrass Concert.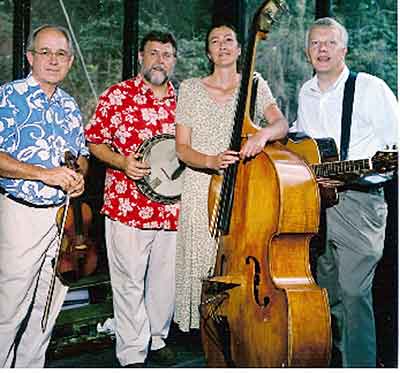 The community is invited to attend Bluegrass under the Stars, a free concert and fireworks event for the family set for Saturday, April 1, from 6 - 10 p.m. in the College's Amphitheatre.
The featured bands will teach free afternoon workshops on songwriting, banjo and fiddle playing and improvisation from 3:30 - 4:30 p.m. in Pickens Hall on campus. Pre-registration is recommended but not required. BBQ plates, hot dogs, candy and other refreshments will be for sale during the event.

Blazing Blue, a local youth bluegrass band who has studied under Osteen, will kick off the show.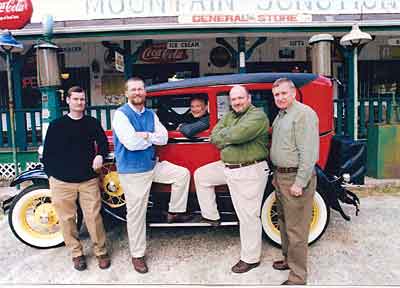 Steel String Theory plays innovative, original roots music, drawing from bluegrass, newgrass, jazz and classical genres. "Bluegrass Unlimited" magazine called the band "an edgy progressive, hard-driving bluegrass band for today's hip listener." Called "masters of versatility" by the Greenville Journal, Steel String Theory is known for its exciting live performances with catchy, original songs, heartfelt lead and harmony vocals and a mixture of improvised solos and intricately arranged instrumentals. The band's debut CD, Curve in the Road, is a 17-song journey from old-time Appalachia to the front lines of new acoustic music.

For the last 30 years, Curtis Blackwell and the Dixie Bluegrass Boys have been considered among the most versatile of bluegrass bands.
Present members include Curtis Blackwell, who plays guitar and sings lead and tenor. Curtis has played bluegrass for 50 years and has performed with Charlie Moore and the Dixie Partners and the legendary Bill Monroe. He was inducted into the Atlanta Country and Bluegrass Hall of Honor in 1998.
Sam Cobb plays bass and sings baritone vocals. He is an original member of the Dixie Blue Grass Boys, which was formed in 1965.
Vic Blackwell, is Curtis's son and plays mandolin and sings lead and tenor. He is the newest member of the band. (He replaced Curtis's son, Shane, who left the band to join The Marty Raybon Band.) Vic lives in Westminster.
Multiple-award winner Charles Wood plays the banjo and has been with the group for 20 years. In 1999 he won the banjo picking at MerleFest and the next year won the banjo picking at Windfield, KS. Last September he played on Late Night with David Letterman with Earl Scruggs Steve Martin and Tony Ellis. He lives in Seneca.
Dr. Pat Welsh plays fiddle and sings bass and has been with the group for six years. A teacher at D.W. Daniel High School, he was the 2005 National Teacher of the Year and received the state and national Christa McAuliffe Memorial Award. He lives in Clemson.
Al Osteen has been involved in bluegrass music in the Upstate and beyond since the mid-l960's, having been an integral part of the critically acclaimed and extremely popular Blackwell/Collins Band. Also, at this time, Al did a lot of playing with the legendary Charlie Moore. The next move was to Nashville's Grand Ole Opry with IBMA Hall of Honor members Jim and Jesse McReynolds. After extended engagements at Six Flags Over Georgia and Underground Atlanta, Al returned to the Upstate in the mid-l970's with his primary focus on banjo instruction. Thirty years later, Al has been involved in producing a number of notable students, some of whom have become major award winners and respected professional musicians.

Al's musical compadres now include Rebecca Osteen, an accomplished bassist, premier lowcountry fiddler Beekman Webb, and singer/player extraordinaire Doug Flowers from Augusta, Georgia.
Tri-County President Ronnie L. Booth, a lifelong bluegrass fan, initiated the idea for the concert as a way of strengthening the College's ties to the community and to connect with the town of Pendleton and its annual Spring Jubilee celebration. "My goal is to become a true community college in every sense of the word," said Dr. Booth. "That takes us beyond the realm of education and training and into hosting more community activities and events. We want people to enjoy our beautiful campus, interact with our faculty, staff and students and to feel more connected to the College."
For more information, visit Tri-County Technical College's website at www.tctc.edu and click on Bluegrass Concert or contact Rebecca Eidson at 646-1507.