Longtime Administrator Retires from Tri-County Technical College

FOR IMMEDIATE RELEASE 1/4/2006
(By Lisa Garrett)
PENDLETON --- Longtime Tri-County Technical College administrator Linda Elliott retired December 31 after than three decades of dedicated service in the areas of academia and institutional advancement.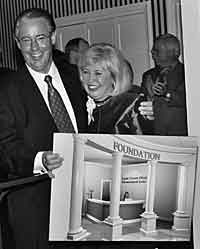 Mrs. Elliott, who lives in Seneca with her husband, Ralph, served as the College's vice president for institutional advancement since 1988 and was responsible for the annual College Development Plan, evaluation, grant proposal development, the College's SACS accreditation, alumni, faculty and staff development, marketing and public relations, graphics and the College's Foundation.
Founded in 1986, Tri-County's Foundation continues to make significant progress. During Mrs. Elliott's 17-year tenure as administrator of the College's Foundation, assets have grown from $2 million to more than $14 million, making it the largest foundation among the 16 technical colleges in the State.

Her strong relationships with donors have resulted in the receipt of significant gifts to the Foundation, including a bequest of more than $630,000 in 1993, a $1 million dollar gift in 2001 and a $535,000 gift in 2005.
At a retirement celebration hosted by the Foundation Board December 2, it was announced that the Foundation Board, friends and family raised $36,600 for the Linda C. Elliott Instructional Excellence Endowment. In addition, Mrs. Elliott's husband, Dr. Ralph Elliott, made the announcement that he is naming the Linda Craven Elliott Advancement Suites in her honor, and the College Commission recognized her pioneering leadership in the areas of academic programs and institutional advancement and inducted her into the Order of the Trilon,
Mrs. Elliott joined Tri-County in 1973 as head of the English Department and was promoted to head of the Arts and Sciences Division soon after legislative action made it possible for technical colleges to institute the University Transfer curricula. As the first chairwoman of the Division, she designed, implemented and administered the College's academic programs that are transferable to senior institutions. Her longstanding commitment to and passion for teaching and learning made her a gifted educator with a strong dedication to instill confidence and to motivate students to achieve their long-range educational goals.
As an advocate of international education, she directed Tri-County's international activities from 1984 - 88 and chaired the national conference for Community Colleges for International Development, Inc., in 1987.
Her accomplishments have won her the respect and admiration of colleagues and co-workers across the State. In 1993 she received a top award, the Educator of the Year, at the Annual South Carolina Technical Education Association's meeting. She was the recipient of the College's Presidential Medallion for Instructional Excellence in 1981. She participated in a Fulbright Seminar Abroad Program held in South Korea in 1986.
Mrs. Elliott is a graduate of High Point College with a bachelor of Arts degree in English and received a full fellowship to work on a master's degree which she received from Wake Forest University in Winston-Salem, North Carolina.
Before joining Tri-County, she was an instructor in the English Department at Central Piedmont Community College in Charlotte, N.C.
She is the daughter of Mary Frances Craven, who resides in High Point.