Nita Colman Named Director of Gateway to College Program
FOR IMMEDIATE RELEASE 1/24/2006
CONTACT: NITA COLMAN, 646-1542
(By Lisa Garrett)
PENDLETON --- Anderson native Juanita (Nita) Colman returned to her hometown this month as the director of Tri-County Technical College's Gateway to College program, a new initiative to serve at-risk students and recent high school dropouts in Anderson, Oconee and Pickens counties.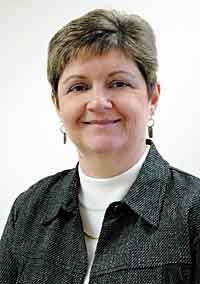 Last October Tri-County was among four community colleges in the United States selected this year to receive grants from Portland Community College in Oregon to address the needs of at-risk and dropout youth through its nationally recognized Gateway to College program. Tri-County Technical College's $300,000 grant is for a three-year period. Portland Community College is one of 12 partner organizations in the national Early College High School Initiative funded by the Bill & Melinda Gates Foundation, the Carnegie Corporation of New York, The Ford Foundation and the W.K. Kellogg Foundation.

In the Gateway to College program, the students complete high school and college courses at the same time, basically remediating and accelerating their academic studies simultaneously. Students start with a cohort experience consisting of comprehensive academic and guidance classes, helping to build their academic competence and their confidence while acclimating them to the college environment. The program is designed for those with the expressed goal of earning a high school diploma and a college credential.
"I'm excited about coming back to the community where my education was such a positive experience. I hold the public school districts in high esteem. I'm a product of Anderson School District 5 and very proud of it," said Colman, who graduated from T.L. Hanna High School in 1977. "I look forward to working collaboratively with the school districts in providing opportunities for at-risk students and dropouts to complete their high school education while at the same time earning college credits."
For the past five years, Colman was director of Admissions and Counseling Services at Central Carolina Technical College (CCTC) in Sumter. Prior to working for CCTC, she spent 18 years as a civilian for the Air Force in the field of education and training. She was the director of Education and Training Services at Holloman Air Force Base, NM, from 1998 - 2000. In that position she ensured that educational programs, ranging from certificates through master's degrees, were offered to more than 15,000 military members and their families serving at Hollomon AFB. During that time her office was awarded the Nathan Altschuler Award for the best education office in the U.S. Air Force.
Prior to that she served as Chief of Programs for the Family Support Center at Osan Air Base, Korea, in addition to serving as Chief Equal Employment Opportunity Counselor for Osan and Kunsan Air Bases. Another duty included serving as officer in charge of the Joint Assembly Point-Relocation Center for Noncombatant Evacuation Operations.
From 1994 - 95, she served as Transition Assistance Manager at Osan Air Base and held the same position at Peterson Air Force Base in Colorado Springs, CO. She was a Training Program Specialist for the Foreign Technology Division at Wright-Patterson AFB in Dayton, OH, from 1989 - 91. During her tenure, she implemented a satellite master's degree program in Strategic Intelligence for all of the analysts.
Colman began her federal career as an education guidance counselor at Wright-Patterson AFB in 1985. Immediately upon graduation from college, she was a special education teacher in Summerville, SC.
Her awards include 49th Mission Support Squadron Civilian of the Year in 1998, the U.S. Forces Korea Professional of the Year and the 51st Fighter Wing Professional Civilian of the Year in 1997. In 1996 she was selected as the 51st Fighter Wing Professional of the Quarter and the 51st Mission Support Squadron Profession of the Year in 1995. In 1992 she received the 21st Mission Support Squadron and 21st Support Group Professional Civilian of the Year.
She excelled in the community college arena by receiving the CCTC Administrator of the Year award and was selected to attend Leadership Sumter as a representative for the college. She also served on the Banner Implementation Team and helped to build the structure of the database for the Student Services Division. In addition, she served on the SACS compliance team and the QEP Leadership Team.
Colman earned a B.S. in Education from The College of Charleston and an M.S. in Business and Industrial Counseling from Wright State University in Dayton, OH. She is presently earning a certificate in Higher Education Leadership through USC.
She and her husband, Donovan, live in Anderson and have two children, Donovan, Jr., 18, and Samantha, 13.