Tri-County's Speech Team Brings Home Three First-Place Awards From 2010 South Carolina Speech and Theatre Association College Festival
CONTACT: GREG TONEY, 646-1364
FOR IMMEDIATE RELEASE 3/9/2010
(By Lisa Garrett)
PENDLETON ---Tri-County Technical College's speech team brought home three first-place awards at the 2010 South Carolina Speech and Theatre Association College Festival held February 27 at Limestone College.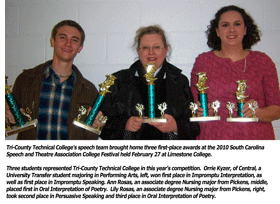 Three students represented Tri-County Technical College in this year's competition. Orrie Kyzer, of Central, a University Transfer student majoring in Performing Arts, won first place in Impromptu Interpretation, as well as first place in Impromptu Speaking. Lily Rosas, an associate degree Nursing major from Pickens, took second place in Persuasive Speaking and third place in Oral Interpretation of Poetry. Ann Rosas, also an associate degree Nursing major from Pickens, placed first in Oral Interpretation of Poetry.

More than 50 students from six different colleges and universities from around the state participated in this year's festival. They included Tri-County Technical College, Limestone College, Lander University, Newberry College, USC Upstate and USC Lancaster.

"This is the best overall results our students have produced in the 13 years I have served as Tri-County's forensics team coach," said Greg Toney. "I'm very proud of them. They did a fantastic job. Lily and Ann are both associate degree Nursing majors, so communicating effectively with patients, doctors and family members in an expressive way is very important," said Toney

"Orrie placed first in the impromptu category, which is one of the most difficult and has the largest number of participants. You have to be quick on your feet and don't have but one minute for preparation time. Winning in that category is a big deal."

"Communication skills are one of the most important skills someone can take into the workplace today," said Toney. "Competing in this annual speech and drama festival allows students to sharpen those skills, as well represent their school while competing against other colleges from around the state."

The Tri-County Technical College Speech and Drama Team is coached by Greg Toney, Kim Harp and Dana Griffith.

The South Carolina Speech and Theatre Association is a professional organization that promotes the study of all areas of performance and oral communication: acting, oral interpretation/performance studies, theatre, broadcasting, public speaking, discussion and debate, and speech education. Its main purpose is the advancement of the total speech and theatre effort in the educational system of the state of South Carolina. SCSTA serves both the public and private schools and the colleges and universities in South Carolina through an annual Conference and spring festival competitions in the Communication Arts, and through recognition of outstanding contributors to our efforts. Membership is open to all persons interested in performance and other areas of oral communication and should be of special interest to persons teaching speech and drama courses at all levels.