Richard Parker Named Director of Tri-County's Business and Industrial Training Department
CONTACT: RICHARD PARKER, 646-1718
FOR IMMEDIATE RELEASE 1/7/2010
(By Lisa Garrett)
PENDLETON --- Richard Parker has been named director of Tri-County Technical College's Corporate and Community Education Business and Industrial Training Department (World Class Training Center). Parker has been working in the position on an interim basis since the retirement of John Benson in 2008. .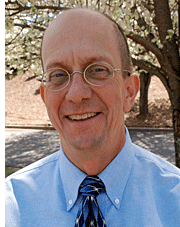 The World Class Training Center is Tri-County's direct link to the business and industry community for its immediate training needs. The director is responsible for the management and delivery of a comprehensive program of courses that meet the occupational training needs of business and industry.
Parker, a Clemson resident, joined the College in 2000 as a training development director for the World Class Training Center and over the years has taught OSHA, Lean Manufacturing, ISO 9000, electrical, supervisory and interpersonal skills classes for business and industry.
He is an OSHA-authorized trainer and WorkKeys profiler and in the past served as a Registrar Accreditation Board (RAB) ISO 900 auditor. In 2003 he was the first Corporate and Community Education instructor in the tri-counties to be certified as a lead environmental auditor of IS0 14000 environmental management systems.
He is a Clemson University graduate and a member of the Oconee Area Society for Human Resource Managers.
He and his wife, Tammy, have four children and are members of East Clemson Baptist Church.