No Better Time for Opening of Oconee QuickJobs Development Center, Officials Agree
CONTACT: RICHARD PARKER, 646-1718
FOR IMMEDIATE RELEASE 5/10/2010
(By Lisa Garrett)
SENECA --- In today's difficult economy, there's no better time for the opening of the Oconee QuickJobs Development Center, officials agreed Friday at the ribbon cutting/dedication ceremony of this new facility designed to provide the training necessary to build a strong, viable workforce serving Oconee County.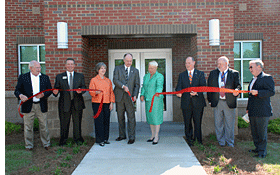 The Oconee County School District, legislators, county council members, the S.C. Department of Commerce and local business leaders joined Tri-County Technical College officials May 7 to celebrate the opening of the Oconee QuickJobs Development Center located at the Hamilton Career Center.

Oconee County received $986,364 from the State Department of Commerce to build a QuickJobs Development Center to assist in workforce training and skills development. Community Development Block Grant (CDBG) funds covered the construction costs of the QuickJobs Development Center which is operated by the College. The land for the Center was deeded to the County by the School District of Oconee County.
Construction began last summer for the 4,600 square-foot-building that houses two classrooms and a large space for labs (welding and electrical classes).

"We're here to celebrate partnerships," said Dr. Ronnie L. Booth, president of Tri-County. "If you look at the College's 10-year vision plan, a key piece is about collaboration -- working with partners and neighbors. This facility is evidence of that."
"We are thankful for the partnership between Tri-County and the Oconee County School District," said Paul Corbeil, a member of the Oconee County Council. "Perseverance, leadership and pride in Oconee County will help us to emerge from this struggling economy. We are proud of this partnership and proud to call you our friends."

"This Center offers basic and technical skills training close to where individuals live and that's important," said Helen Rosemond-Saunders, chairman of the Tri-County Technical College Commission.

"This Center is about the future of our community and their ability to find jobs," said Senator Thomas Alexander. "There is no better time for this facility to begin its operations. Industry employees will be trained here quickly so they can be more productive, and our unemployed individuals will have the opportunity to gain the skills they need for jobs that are available in the community. It's refreshing to see these types of partnerships. The citizens of our community will be well served."

"This is an opportunity for folks to continue their educations so they can be more productive employees and consequently their children will be much better," said Dr. Michael Lucas, superintendent of the School District of Oconee County.

"You have outstanding leadership in Oconee County and they have your best interest at heart," said Bonnie Ammons, assistant director of federal grant programs of the South Carolina Department of Commerce. "Opening this technical and learning center is a long-lasting commitment to your community and its people. You're investing in a strong and capable workforce and creating opportunities for individual and businesses to succeed in the global economy today. The Department of Commerce is delighted to be partners with you and to grant the funds to build this QuickJobs Development Center."
.