Paul Phelps Receives Presidential Medallion for Instructional Excellence
CONTACT: LISA GARRETT. 646-1506
FOR IMMEDIATE RELEASE 5/12/2010
(By Lisa Garrett)
PENDLETON --- Paul Phelps, Welding program coordinator at Tri-County Technical College, was honored for his dedication to the profession with the highest award presented to the faculty, the Presidential Medallion for Instructional Excellence, at the College's annual commencement May 11.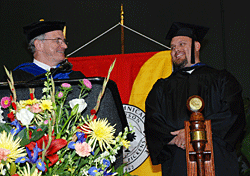 Dr. Ronnie L. Booth, president, presented the medallion to the Easley resident. The medallion is presented each year to the instructor who has contributed the most during the academic year to the profession of teaching, to the development of the College and to the students.
"Paul Phelps' contributions to Tri-County span much further than Clarke Hall (where the Welding program is housed on campus)," Megan Moynihan, student support service coordinator for the Industrial and Engineering Technology Division, wrote in her nomination. "The first day I met him I was impressed by the knowledge and passion Paul possesses for welding, as well as his willingness to share it with others," said Moynihan.
In the five years that Phelps has served as program coordinator, the Welding program's enrollment has doubled -- from 60 to 120 students -- and its campus and community involvement has increased. "Paul agrees to help with everything he's asked and more," said Scott Brabham, Welding instructor. "He's always available for students even when it's not convenient for him and he somehow still finds time to look for ways to continue to improve the program. He has taken on and completed lots of projects in the last five years that have benefitted the community, the College, our division and this program," said Brabham.
Last year the Welding department partnered with Clemson University's Architecture and Landscape Architecture students in a project to take a shipping container and turn it into a hurricane-resistant housing option for residents in underprivileged countries.
In just eight weeks, around 30 Tri-County and Clemson students -- working two days a week, four hours a day -- turned the shipping container into a prototype. Last month the SEED Project (http://www.cusa-dds.net/seed/) earned the Clemson University/Tri-County Technical College team a $75,000 grant from the Environmental Protection Agency at the sixth annual National Sustainable Design Expo on the National Mall in Washington, D.C.
Other service-learning projects include constructing fabricated trailers for firefighters to use to collect aluminum cans to raise money for burn victims and creating the entrance gates at Tri-County's Pendleton campus.
"Paul is always readily available for the students, "said Moynihan. "I have spoken with many Welding students who note Paul's help not only with academic advising but personal advising as well. Paul has an understanding that student success does not come from instruction alone," she said.
Several years ago Tri-County Technical College partnered with Fusion Warehouse, a former youth center in Anderson, to offer welding training classes for at-risk youth, ages 16 – 21, who have dropped out of high school.
Students gained basic welding skills through this sheet metal certification class. These students took a welding course four days a week and completed their GED during the day. To help offset the cost of the program, Phelps had several Welding students construct welding booths for Fusion to use, resulting in savings of several thousand dollars as well as providing a service-learning opportunity for Welding students. A similar program was created for the participants at the Haven of Rest.
In 2007, he, along with Brabham, became certified welding inspectors through the American Welding Society (AWS). They completed certified welding inspector training through the Hobart Institute of Welding Technology and testing with the American Welding Society. Passing the examination earned them the Certified Welding Inspector (CWI) designation, an internationally recognized certification of proficiency in weld inspection. They also earned Certified Welding Educators credentials. The CWI certification is widely recognized, both nationally and internationally, in the welding industry.
Prior to joining Tri-County, Phelps worked for two years as an assembly technician and diesel mechanic at Caterpillar and a year as an assembly technician at GE. He also worked as a welder at Sulzer and worked as a fabricator/welder and as a machine operator at Saco Lowell. He is a 2003 graduate of Tri-County's Welding Department and worked as an adjunct instructor for a year and a half. He is a member of the American Welding Society Regional Board. He serves on Tri-County's Faculty Senate committee and the Title III committee.
He and his wife, Shannon, have two children, Jonathon and Katelynn.