John Powell, Tri-County Alumnus and Oconee County Real Estate Developer, Named to College's Commission
CONTACT: JOHN POWELL, 864-638-5879
FOR IMMEDIATE RELEASE 2/5/2010
(By Lisa Garrett)
PENDLETON --- In the early 1970's John Powell served as the leader of the student body of Tri-County Technical College. The Oconee County real estate developer and business entrepreneur is again serving in a leadership position at his alma mater, this time as a member of the College's nine-member Commission.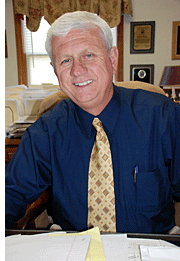 Powell is the newest commission member representing Oconee County. He is the second alumnus in the history of the College to serve on its governing board. Governor Mark Sanford appointed Powell to a three-year term on the Commission effective January 11. He takes the seat occupied by Neal Workman, of Walhalla.

Powell said he is honored to serve his alma mater "because Tri-County touches so many people in our three counties by serving their educational needs and consequently positively changing their lives and lifestyles. I wanted to be a part of that. Tri-County changed me," said Powell, who, since graduating, has maintained a close connection to the College by serving on various boards and continuing to spread the word about a place that gave him career direction and many fond memories.

He says Tri-County offered exactly what he was interested in – practical experience combined with classroom knowledge.

He served as the College's second Student Government Association president and was selected as a student member of the Governor's Drug Abuse Council in SC in 1972. "I still feel a real connection to the College," said Powell, who, to date, is the first and only alumnus to serve on the College's Foundation Board, was the Alumni Association's second president and is now serving on its board of directors. He also is a longtime member of the Business Technology Advisory Committee.

During his tenure as president of the Alumni Association, he helped to organize the first annual golf tournament in 1987, which has continued through the years with proceeds from past tournaments enabling the Alumni Association to endow two scholarships through the College's Foundation, to make professional development opportunities available to faculty and staff and to name a room at the Anderson Campus. Last year he received Tri-County Technical College's Distinguished Alumni Award, which highlights his dedication to his alma mater. The recipient of this award must have been awarded a degree, diploma or certificate from Tri-County; must have graduated at least one year ago; and must have made significant contributions to the College, the Alumni Association or the community.

Powell entered the real estate business in 1973 and today Powell Real Estate has 16 sales agents in three offices, and Powell, who sells just like the rest and vows that will never change.

He also owns a cattle farm, which he maintains by himself in the evenings. In addition, he has been involved in the creation of 36 subdivisions, including being a partner in Falcon's Lair Golf Community in Walhalla. In 2002 he and good friend, Rick Cook, formed a partnership. Today they have nine Subway franchises in Upstate SC.

In 1992 he was elected to the Oconee Medical Center Board of Directors and served as chairman from 1995 – 1998. He also chaired the Hospital's Building Committee and the Oconee County School Task Force. He is a former member of the State Disabilities and Special Needs board and currently serves on the board of directors for Table Rock Retreat Center and the Business Education Industry Organization in Oconee County.

Giving back to the community is key to Powell so he didn't hesitate when asked to chair a fundraising campaign to build a homeless shelter in Oconee County. Our Daily Rest opened last summer.

He is very active in his church, Welcome Wesleyan Church, where he leads a Small Group and sings in the choir.

Powell resides in West Union with his wife, Joyce, and their teenage son, Cliff, 18. They also have three adult children, Joy, James and Mark, and four grandchildren.