Milton Ponder of Dacusville Named to Tri-County's Commission
CONTACT: LISA GARRETT, 646-1506
FOR IMMEDIATE RELEASE 6/18/2010
(By Lisa Garrett)
PENDLETON --- William Milton Ponder, III, of Dacusville, has been appointed to Tri-County Technical College's Commission, the nine-member governing board of the College.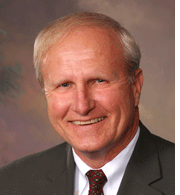 Governor Mark Sanford appointed Ponder to a three-year term on the Commission. He takes the seat formerly occupied by Ben Childress and represents Pickens County.

"I am so proud and appreciative for the opportunity to serve on the Commission," said Ponder, who served as director of school and community information and later as hearing office and director of student services for the School District of Pickens County until his retirement in 2008. "I am aware of the impact that Tri-County has on the three-county area it serves and the opportunities it provides for local citizens. Tri-County plays such a crucial role in supporting local industry, and in preparing the workforce, especially during these economic times. I hope to be able to support and continue the legacy carried on by the dedicated Commission members, administration, faculty and staff who have worked so hard to make the institution what it is today."

Ponder is a graduate of the University of South Carolina Law School and formerly worked as an attorney with the law firm of Finley, Ponder and Warlick. He is a retired colonel with the United States Army Reserve and is a member of the South Carolina Bar Association, Pickens County Bar Association, American Legion Post No. 11, Keowee Lodge No. 789 AFM, Fraternal Order of the Police and the board of directors of Pickens Savings and Loan Association.

His past community affiliations include serving as president of the Pickens County United Way, chair of Pickens County Forestry Board, a member of the South Carolina Truancy Task Force, the Youth Advocate Program Board of Directors, Pickens County Farm Bureau Board of Directors, Rocky Bottom Camp for the Blind Advisory Board, and chair of the Pickens County Salvation Army Advisory Board.

He is a member of Easley First Baptist Church where he teaches the Roy C. McCall, Sr. Men's Class.

He and his wife, Toni Jean, have one adult son, William M. Ponder IV, who resides in Columbia with his wife, Elizabeth, and their son, Wyatt.