Kalleys Find Perfect Pet through Tri-Countyís Veterinary Technology Programís Pet Adoption
CONTACT: JOAN KALLEY, 646-1366 or
DR. PEGGY CHAMPION, 646-1357
FOR IMMEDIATE RELEASE 3/12/2010
(By Lisa Garrett)
PENDLETON --- Every time Joan Kalley walked down to Tri-County Technical College's Veterinary Technology department this semester to view the animals, who later would be up for adoption, she told herself she was just visiting. That is, until she laid eyes on Sadie, a black and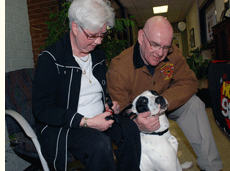 white dog who was rescued by Oconee County Animal Control officers after a man whose truck broke down heard her yelping and discovered her stuck between the two limbs of a tree in a wooded area. She probably had been trapped and wedged between the branches for several days. She was thin and traumatized; one leg was trapped, bleeding and cut to the bone. The animal control officers, who had to cut the branches to get her out of the tree, suspected she recently had given birth to a litter of puppies that were never found. Dr. Andy Holland of Walhalla generously donated his time to repair her leg.
Sadie, or Mersadies Elizabeth, is among the animals obtained from area animal shelters and cared for by students during the semester as part of the Tri-County's Veterinary Technology program. Dogs and cats will be available for adoption Wednesday, April 21, from 2 – 6 p.m. in Halbert Hall on Tri-County's Pendleton campus. All animals are spayed or neutered, vaccinated and microchipped for permanent identification. The adoption fee is $45, payable at the time of adoption.

"I periodically go down to Veterinary Technology to give the animals looks and love," said Mrs. Kalley, who teaches English at Tri-County. "I truly just went down there to visit with the animals that were up for adoption and to talk with the students," she said. "That day I only looked at Sadie, and thought 'she's mine.' She was very laid back and sweet and has perfect black circles around her eyes which form a mask," she said.

"When I heard her story of being rescued and later coming to Vet Tech for the semester, I knew she was ours," she added.

There had been a real void in the Kalley's lives since the death of their beloved 16-year-old German Shepherd, who was euthanized two years ago this June. She went home and told her husband, Bruce, about Sadie's experience, and they decided to add Sadie to their Pendleton home.

"The Kalleys are just the right people to adopt Sadie," said Dr. Peggy Champion, who leads Tri-County's Veterinary Technology program. "Sadie is the perfect dog for them. To have been through what she has, this dog is just the most loving dog I have ever met in my life. I'm so glad this particular couple is taking her. It's a match made in heaven. She will bring as much to them as they are bringing to her," said Dr. Champion.

"Sadie is one of those touch-your-heart learning experiences for our students," said Dr. Champion. "She came to the Oconee Animal Shelter in the most horrible state. The employees and Dr. Holland are examples of the tender loving care given to the pets at the shelter. Sadie is an example that animals can be rescued and treated and can find a great home. We are here to take care of animals. It's our goal, along with educating the public about animal care."

The Kalleys are longtime supporters of the Veterinary Technology program through word of mouth and donations to the Foundation's "PAWS for a Cause" campaign which allows individuals to purchase a dog paw, a cat paw or a horseshoe in memory or in honor of a beloved pet. Each one is personalized with the pet's name, the donor's name, and a brief message and is displayed in Halbert Hall. The cost is $50 per paw. The monies raised through "PAWS for a Cause" will one day be used toward the cost of expanding Halbert Hall to better serve the animals that come to the Veterinary Technology Department through local animal shelters.

"Before Adoption Days at Tri-County, I always bring up the Veterinary Technology web page during in my classes to let students know about it," said Mrs. Kalley. "The Veterinary Technology faculty and students do such as wonderful job. I show and send the website link to let people know about this great program."

For more details and pictures of the animals up for adoption, go to tctc.edu and click on Pet Adoption Day.

To see animals prior to adoption day, please call for an appointment: Dr. Peggy Champion at 864-646-1357, Ashley Brady at 646-1547 or Christee Williams at 864-646-1358.