Eugene Grant Receives A. Wade Martin Innovator of the Year Award
CONTACT: EUGENE GRANT, 646-1341
FOR IMMEDIATE RELEASE 2/24/2010
(By Lisa Garrett)
PENDLETON --- Examples of creating real-world learning experiences on campus and off, and keeping the curriculum current by offering programs that supply industry with graduates possessing the technical and mechanical skills needed in today's competitive workforce earned Eugene Grant the A. Wade Martin Innovator of the Year award.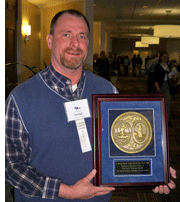 Grant, dean of the Industrial and Engineering Technology (I & ET) Division at Tri-County Technical College, was singled out among nine state technical college nominees and accepted the award at the 2010 South Carolina Technical Education Association conference February 19. The Innovator of the Year award is named in honor of A. Wade Martin, the first executive director of the technical and industrial training program in South Carolina. The award was established to recognize individuals in the technical college system who employ innovative approaches to meet the ever-changing needs in the technical education arena and whose achievements assist in statewide economic development and the education of students.
Since taking over the leadership of the division in 2004, Grant has been focused on initiatives that will result in greater student success and enhanced services to local industries.
One of the examples of the real-world learning experiences include a project whereby the Heating, Ventilation and Air Conditioning (HVAC) students upgraded the entire climate control system for the Veterinary Technology Department's large dog kennel

Second-year HVAC students, in both day and evening classes, renovated and retrofitted a pre-existing system to improve its operational design. Students gained excellent experience in HVAC installation, problem solving, and customer service. Current ductwork was repaired, reinsulated, and adapted to accommodate a five-ton air conditioning unit. Safety for students, equipment and facilities were stressed as the students worked. As on the actual job site, students had to coordinate timelines with day and evening students, facility maintenance, and outside contractors. HVAC supplies were obtained from local vendors
Other examples of the division's service-learning projects include the construction of fabricated trailers for firefighters to use to collect aluminum cans to raise money for burn victims and the construction of a footbridge in a local city park.
Class projects are often used for recruiting in the local high schools and in the community. Several class projects that combined technical skills from several majors resulted in building a race car, a Henry Ford 1896 Quadracycle and a motorcycle.
In addition to applying their skills, students build something that can be used to attract high school students into the I & ET programs. These vehicles are taken to career centers and high schools and are used as part of the Division's recruiting efforts.
Partnerships with local colleges and school districts have been a priority for Grant and his division. Recently the Welding students partnered with Clemson University Architecture and Landscape Architecture students, using their metalworking skills to help create a sustainable housing unit. The students took a shipping container and turn it into a hurricane-resistant housing option for residents in underprivileged countries.
It was the first time the Department of Architecture collaborated with Tri-County. In just eight weeks, around 30 Tri-County and Clemson students -- working two days a week, four hours a day -- turned the shipping container into a prototype and developed valuable hands on-experience for their resumes.
This semester, the College is partnering with Anderson School District Five's Hanna-Westside Extension Campus to offer an evening Automotive Technology program. The certificate program prepares persons to work in the area auto businesses and service centers. High school students already taking automotive classes at the Extension Campus could enter the curriculum as second-year students. In addition to a certificate or degree, graduates could earn a certification from the National Automotive Technicians Education Foundation.
In an effort to attract females into the I & ET Division, the Division has partnered with the S.C. Silver Crescent Foundation to provide summer camps for middle school girls to raise awareness of science, technology, engineering and math (STEM) careers.
Grant continues to work with the College to identify sources of grant funding and to develop grant applications. He was instrumental in obtaining grants for advanced machining equipment, pipefitter/welding equipment, robotic equipment and the nationally recognized "Project Lead the Way initiative."
He is a 1990 alumnus of Tri-County's Electronics Engineering Technology (EET) curriculum and its outstanding graduate that year. He was an instructor for the Industrial Electronics Technology department from 1991 - 96. He went on to earn a B. S. in Industrial Education and a master's in Industrial Education at Clemson University. In 1993 he was named Tri-County's Educator of the Year.
He spent eight years working at the Robert Bosch Corporation as a team leader/apprentice supervisor, senior technical trainer and later as s senior equipment coordinator.
Grant's professional affiliations include membership in the Society for Maintenance and Reliability Professionals, Society for Manufacturing Engineers, International Technology Education Association and Association for Career and Technical Education.
He is an active member of the Epsilon Pi Tau (honorary fraternity for professions in technology). He is a member of the deacon board of Guthrie Grove Church of God of the Abrahamic Faith. He and his wife, Lynda, have two children and live in Williamston.