Memorial Service to Celebrate Life and Work of Dr. Don C. Garrisonc Set for Thursday, May 6
CONTACT: LISA GARRETT, 646-1506
FOR IMMEDIATE RELEASE 4/26/2010
(By Lisa Garrett)
PENDLETON --- A memorial service to celebrate the life and work of former Tri-County Technical College president Dr. Don C. Garrison will be held Thursday, May 6, at 2 p.m. in the Marshall Parker Auditorium in Oconee Hall on the Pendleton Campus. Faculty, staff, retirees and community members are invited to attend.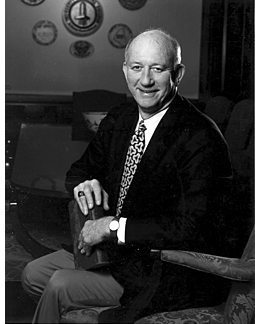 Dr. Garrison passed away on February 27. He served as president of Tri-County Technical College for more than 32 years and devoted his entire professional career – more than four decades – to education in South Carolina.

From the time he assumed the presidency at Tri-County in 1971, Dr. Garrison was a tireless advocate for technical education, and he placed Tri-County at the forefront of two-year colleges in the U.S.

The College, under Dr. Garrison's leadership, is often recognized for its contributions to economic development and for attracting international industry to the tri-county area.

On the program to share their memories of Dr. Garrison will be Glenn Hellenga, director of Career Services at Tri-County; Dallas Jones, retired Medical Laboratory Technology Department Head; Dr. Mendel Stewart, retired Tri-County Technical College Commission chair; and Dr. Lex Walters, retired president of Piedmont Technical College.

For more information, contact Rebecca Eidson at 646-1507 or reidson@tctc.edu.