Dr. Barry Russell, President of the SC Technical College System, to Deliver Tri-County Technical College's Spring Commencement Address
CONTACT: LISA GARRETT, 646-1506
FOR IMMEDIATE RELEASE 4/26/2010
(By Lisa Garrett)
PENDLETON --- Dr. Barry W. Russell, president of the SC Technical College System, will deliver Tri-County Technical College's spring commencement address Tuesday, May 11, at 6 p.m. at the Anderson Civic Center.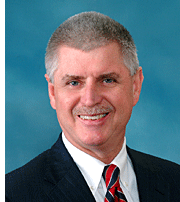 Approximately 492 students will graduate this month. In addition to families and guests of the graduates, alumni and other friends of the College are invited to attend the ceremony.

Prior to assuming his position in January 2006, Dr. Russell served as President of Midlands Technical College in Columbia. He also served in positions in the North Carolina Community College System including President of Southwestern Community College and Executive Vice President and Chief Operating Officer for the System. Dr. Russell began his career in the SC Technical College System at Piedmont Technical College in Greenwood.

At the state and local level, Dr. Russell serves on the boards of the South Carolina Council on Competitiveness, the South Carolina Manufacturing Extension Partnership, AdvanceSC, South Carolina Economic Developers Association and the South Carolina Workforce Investment Board. He also serves on the South Carolina Education and Economic Development Act Coordinating Council. Dr. Russell recently served nationally on the American Association of Community Colleges Board of Directors where he chaired the Committee on Public Policy/Government Relations.

Last year, Dr. Russell announced his plans to retire at the end of May 2010.