Greg Sosebee Receives Distinguished Alumni Award
CONTACT: LISA GARRETT. 646-1506
FOR RELEASE AFTER 8 P.M. ON TUESDAY, MAY 11
(By Lisa Garrett)
CLEMSON --- When Greg Sosebee graduated from Seneca High School in 1973, most of his friends went to four-year universities. But he wasn't ready to commit to college.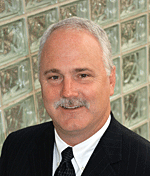 After several years of working for a construction company, he was still undecided about a career. "I wanted a degree that I would use," he said. He knew he wanted to work outside, and a conversation with a relative made him consider professional land surveying as an occupation. At that time, there were two ways to prepare for a career as a licensed land surveyor: earn a two-year degree and gain four years of experience or earn a four-year degree with two years experience for a combined six years of experience. "I chose the two-year degree, and I enrolled in Tri-County's Civil Engineering program," said Sosebee.
Tonight he receives Tri-County Technical College's Distinguished Alumni Award, which highlights his dedication to his alma mater. The recipient of this award must have been awarded a degree, diploma or certificate from Tri-County; must have graduated at least one year ago; and must have made significant contributions to the College, the Alumni Association, or the community.
Thirty-three years later, Sosebee, the owner of Greg B. Sosebee and Associates Land Surveying in Seneca, still says he made the right decision in choosing Tri-County. "Tri-County helped me to mature," he said. "The small classes and one-on-one interaction with instructors, who were working professionals, were invaluable. Committed instructors like Dunk Chalker, who was a professional surveyor and department head, kept me involved," he said. He finished all of the requirements, except a physics class, in a year and a half and returned the next year to take the class in the evening after work.

During his last semester, he landed his first job working for Clemson Engineering Services, where he stayed for 15 years. Along the way, he received his professional surveyors' license and ventured out on his own in 1992 when he formed Greg B. Sosebee and Associates and Land Surveying in Seneca.

"It's perfect for me. I'm my own boss, I work outside, and every job is different. It's never monotonous."

He has kept in touch with his alma mater over the years by taking professional development classes to earn his residential contractors license and a financial planning class with his wife, Jane.

Through the years, he has supported the Alumni Association by playing in the annual golf tournament. Earlier this year Sosebee accepted the invitation to join the College's Alumni Board of Directors.

Board members attend quarterly meetings, assist with Alumni Association activities and events, promote the association and recruit members. In addition, they assist with fundraisers, including the Spring Open, the annual golf tournament co-sponsored by the Alumni Association and the Athletics Department.

His other community affiliations include serving on Clemson University's Board of Visitors and as the president of the Northwest Chapter of the S.C. Society of Professional Land Surveyors.

The Sosebees support the College and believe it improves the lives of citizens, as well as the economic well being of our state. His wife, Jane, who is the Director of Government Relations for AT&T South Carolina, is a former member of the College Foundation's Board of Directors and currently serves as a co-chair of its Golden Opportunities to Shape the Future Major Gifts Campaign whose goal is to raise $9 million in cash and pledges over the next five years to position the College to be more responsive to community needs.

Both daughters, Laura and Mary Katherine, have taken University Transfer classes at Tri-County while pursuing their bachelor's degrees. "Like me, they saw the value in choosing Tri-County Technical College," said Sosebee.