Campus Service Honors Life and Work of the Late Don C. Garrison
FOR IMMEDIATE RELEASE 5/6/2010
(By Lisa Garrett)
PENDLETON --- Our lives are about the legacy each of us leaves behind.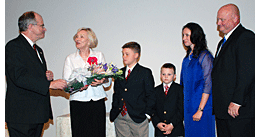 "It's not about how much you amass, the awards you receive or the diplomas on the wall. It's about how many people you help. Don Garrison truly helped people," said Dr. Mendel Stewart in his remarks at a memorial service honoring longtime educator and retired Tri-County Technical College President Dr. Don C. Garrison.

Dr. Stewart, who served on Tri-County's Commission for 32 years, was among the family, friends and colleagues who gathered Thursday afternoon at Tri-County Technical College to celebrate the life and work of Dr. Garrison, who passed away February 27. He served as president of Tri-County Technical College for more than 32 years and devoted his entire professional career – more than four decades – to education in South Carolina.

Speakers shared memories and talked about the many lives he touched as president of Tri-County from 1971 until his retirement in 2003.

"We're here to celebrate a life well lived," said Dr. Ronnie Booth, president of Tri-County. "I smile every time I think about your dear husband," he said to Carol, Dr. Garrison's widow. "He was incredibly gracious to me when I took this job and showed me the lay of the land. He was a man of integrity. He did it right and he did it well."

From the time he assumed the presidency at Tri-County in 1971, Dr. Garrison was a tireless advocate for technical education, and he placed Tri-County at the forefront of two-year colleges in the U.S.

The College, under Dr. Garrison's leadership, is often recognized for its contributions to economic development and for attracting international industry to the tri-county area.

"He lived and breathed Tri-County Technical College," said Dr. Booth.

"I've never know a leader more committed to what he did," said Tri-County's Director of Career Services Glenn Hellenga, whom Dr. Garrison hired in 1973. "His commitment came from the heart. Where the good guys go, Don Garrison is telling the Tri-County story."
"Dr. Garrison put Tri-County on the map," said Dr. Stewart. He really made a difference. I never met someone more passionate about his calling in life. He truly believed in Tri-County."

"Don Garrison was the most unique individual I've ever known," said Dr. Lex Walters, retired president of Piedmont Technical College and longtime friend and colleague of Dr. Garrison.

"He loved to talk about the loves of his life -- his wife, his family, this college and his church. He was committed to the mission of the College and giving the best service to each student. Don devoted his life to Tri-County. We do miss you but your legacy lives on," said Dr. Walters.

"I'm pleased to follow Don and to build on his legacy. I hope only half as much can be said about me when I'm gone," said Dr. Booth.