Stephanie Brown Receives Adjunct Faculty Presidential Award at Tri-County Technical College
CONTACT: LISA GARRETT, 646-1506
FOR IMMEDIATE RELEASE 5/5/2010
(By Lisa Garrett)
PENDLETON --- Stephanie Brown, a licensed veterinary technician who teaches in Tri-County Technical College's Veterinary Technology program, received the College's 2010 Adjunct Faculty Presidential Award today (May 5).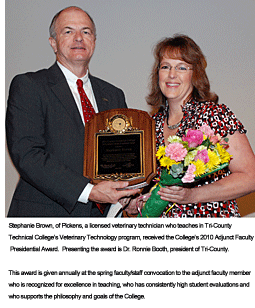 This award is given annually at the spring faculty/staff convocation to the adjunct faculty member who is recognized for excellence in teaching, who has consistently high student evaluations and who supports the philosophy and goals of the College.
Brown, who has taught at the College for eight years, is a 1992 alumna of the program and worked as a licensed veterinary technician in private practice for 13 years. She was named Veterinary Technician of the Year in 1998 by the South Carolina Association of Veterinarians.
"Consistently Stephanie takes the time to truly teach students, not just give them information and expect them to give it back," said Dr. Peggy Champion, Veterinary Technology department head. "Even though the students consider her to be very strict, she is well liked and admired among them," said Dr. Champion, noting that in 2007 and 2009 and again this year, the graduating seniors requested that she be the keynote speaker at their annual pinning ceremony.
Brown's diligence and devotion are exemplified by her willingness to take on responsibilities equal to those of full-time faculty, said Dr. Champion. "For example, she has taken on the radiology element of the program with enthusiasm and courage, which includes attending seminars and visiting Upstate Veterinary Specialists on a regular basis to gain knowledge of CAT scans, digital radiography and ultrasonography to allow her to teach these subjects in both theory and practice," said Dr. Champion.
"Stephanie puts the students and their education as a priority," said Dr. Champion. When asked to take over laboratory animal medicine, Brown read every textbook available and added wildlife and pocket pets to the course to cover the new requirements from the American Veterinary Medical Association (AVMA), the program's accrediting body.
"It's not just her willingness to learn that makes her such a wonderful adjunct faculty member; it is also her attitude," added Dr. Champion. "She is never afraid to take on a new challenge or to adapt herself to ever-changing practices in the profession of veterinary medicine."
Brown lives in Pickens with her husband, Johnny, and their children, Cody and Kaylyn.