TechReadySC™ Provides Equipment to Upstate Colleges


CONTACT: RICK COTHRAN, 646-1701
FOR IMMEDIATE RELEASE 1/29/2009
(By Lisa Garrett)
PENDLETON --- TechReadySCsm, a collaborative partnership of five Upstate colleges that is funded by AdvanceSC. has provided each of the colleges with state-of-the-art laboratory equipment to support the new courses required by today's advanced manufacturing sector. This equipment provides students with "hands-on" training opportunities in the interdisciplinary field of Mechatronics Technology (electronic systems, mechanical systems, control systems and computer systems).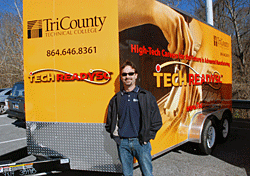 TechReadySCsm includes Greenville Technical College, Piedmont Technical College, Spartanburg Community College, Tri-County, and York Technical College.
Instructors from each college have received training and certifications from vendors such as Festo, Kuka Robotics, Siemens and others. All Upstate colleges are using a "standardized curriculum" for Mechatronics.
Another key piece of equipment that TechReadySCsm provided to each college is a utility trailer with which to transport equipment to training sites off campus. With this new mobility, each college will be able to take these programs to worksites to train a company's workers in the latest advanced manufacturing techniques. The trailers also can be used to take the new equipment to the high school career centers to supplement their advanced manufacturing programs.
"In addition to industry, this gives us the versatility and mobility to teach at our branch campuses," said Rick Cothran, dean of Tri-County's Corporate and Community Education Division. "It helps us to meet the needs of the marketplace and provide flexible, on-site technical training."
Funding for TechReadySCsm has been provided by AdvanceSC, a foundation which awards grants to support education programs related to manufacturing-based economic development efforts. "AdvanceSC is proud to serve the needs of our community and recognizes this collaboration as a necessary approach for our state to produce a skilled and proficient work force," said Carol Burdette, AdvanceSC president.