Dr. Ronnie L. Booth to Address Graduates at Summer Commencement

CONTACT: LISA GARRETT, 646-1506
FOR IMMEDIATE RELEASE 7/23/2009
(By Lisa Garrett)
PENDLETON --- Dr. Ronnie L. Booth, president of Tri-County Technical College, will deliver the College's summer commencement address Thursday, August 6, at 6 p.m. at the Anderson Civic Center.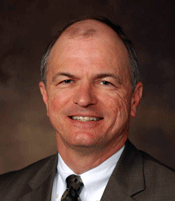 More than 300 students will graduate this month. In addition to families and guests of the graduates, alumni and other friends of the College are invited to attend the ceremony.

Dr. Booth became the College's third president on July 1, 2003. He came to Tri-County from Gainesville College, where he served as vice president for external programs. Prior to that he served as the College's associate vice president for academic affairs.

During his six years at Tri-County, he has opened the College's first two branch campuses – the Anderson Campus and the Oconee Campus at the Hamilton Career Center. Legislators, county council members, and local business leaders joined College officials May 29 in breaking ground on a 37.51-acre piece of property on Powdersville Road in Easley that will become the site of the College's third branch campus.

Dr. Booth also opened the Anderson-Oconee-Pickens Economic Development Center, a one-of-a-kind facility on the Pendleton Campus to train workers for new and expanding industries. In addition, he launched a new Gateway to College program for high school dropouts and the new Bridge to Clemson program with Clemson University.

He holds a B.S. in Business Administration, an M.Ed. in Student Personnel Services and a Ph.D. in Higher Education Leadership and Policies from the University of South Carolina and an M. A. in Theological Studies from Gordon-Conwell Theological Seminary.

His public service and professional activities include the Anderson County Economic Development Board; Anderson Chamber of Commerce Board of Directors; Alliance Pickens Board; WorkLink (Pendleton Workforce Investment Act) Board; Innovate Anderson; chair of the Community Colleges of Appalachia Board; Upstate Alliance Board; Anderson Rotary Club; the Oconee Economic Development Commission; Pendleton Regional Education Center Advisory Board; President's Advisory Board at Clemson University; Gateway to College National Network Board; vice chair to the S.C. Technical College Presidents' Council; and vice chair of the Oconee Alliance Board.