Kevin Steele Receives Tri-County's Staff Excellence Award
CONTACT: KEVIN STEELE, 646-1858
FOR IMMEDIATE RELEASE 8/20/2009
(By Lisa Garrett)
PENDLETON --- Kevin Steele, manager of administrative services at Tri-County Technical College, was honored Thursday (August 20) with the highest award given for staff excellence at the College.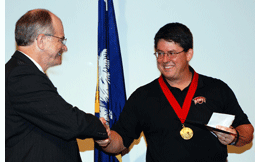 Steele, a Seneca resident, received the Presidential Medallion for Staff Excellence at the annual faculty/staff fall convocation. The medallion, along with a cash award made possible by the Tri-County Technical College Foundation, goes to a person who has demonstrated over and over a strong belief in the purpose and mission of the College.
He joined the College in 2005 as manager of the bookstore and cafeteria services operations. His duties have expanded to include printing services, custodial, risk management and shipping and receiving.
"No one has more enthusiasm and passion for customer service than Kevin Steele," said President Ronnie L. Booth as he made the presentation.
"Kevin is the role model for customer service," said Faye Allen, director of accounting in the College's Business Office, in her nomination. "His first thoughts and actions are always geared towards giving quality service to the students and the employees of the College. Kevin has more energy than 10 people put together. And he uses this energy to motivate everyone around him. Employees within all areas of the College know that Kevin is the go-to guy to get something done," she said.
Steele spent five years as Operations Manager at Compact Automation Products before joining Tri-County. His experience included working as Purchasing Manager for Beckton Dickenson in Seneca and Customer Services Manager and Operations Manager for Unimark Plastics in Greenville. He began his career at Compact Air Products, where he worked in the Inventory Control and Computer Systems Departments. Kevin holds a B.S. degree in Financial Management and a master's in Business Administration from Clemson University. He and his wife, Michelle, live in Seneca. They have two sons, Zach and Josh. They are members of Seneca Baptist Church, where Steele is a deacon.