Tri-County Freshman is SC FFA State Secretary


CONTACT: LISA GARRETT, 646-1506
FOR IMMEDIATE RELEASE 11/23/2009
(By Lisa Garrett)
ANDERSON --- Anna Kate Waters is dedicated to changing the face of FFA.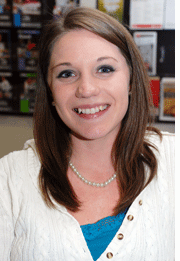 As the 2009 – 10 SC FFA State Secretary, Waters spends time promoting the field of agriculture as a career. "I know people immediately think farmers and farming when they hear FFA," says Anna, explaining that the Future Farmers of America changed its name in 1988 to reflect the growing diversity of agriculture. "An Agriculture degree gives you so many career opportunities that many people don't even think about."

Waters, a freshman university transfer major at Tri-County Technical College's Anderson Campus, is preparing for transfer to a four-year college where she will study agriculture education with a communication track. She plans to earn a teaching credential, as well as take public relations classes. "I want to have career options – to have the opportunity to teach or to work in college recruitment or public relations for an agriculture-based company. But I definitely want to work with agriculture students in some capacity."

FFA is a youth organization that is a part of agricultural education programs at middle and high schools. She's in her seventh year as a FFA member. While in high school and at the Hanna-Westside Extension Campus, she studied the importance of agriculture and was able to take advantage many leadership-based opportunities.

According to the national FFA website, FFA members are part of a total agricultural education program that connects students to exciting careers in the science, business and technology of agriculture. FFA is only one of the three essential components of this system, all of which work together to provide members with leadership, academic and career experiences essential for success.

While at Hanna-Westside, Waters was a chapter officer and is now a member of the Anderson FFA Alumni Chapter. "Through FFA activities, I was able to study communication skills, leadership skills, public speaking and personal growth and career success," she said. She has attended the national FFA convention for six consecutive years and last year was elected the organization's At Large State Secretary.

When she began looking at colleges her senior year, she says the school's Career Specialist, Butch Merritt, who now works as an Enrollment Counselor at the Anderson Campus, reminded her to keep Tri-County's Anderson Campus in mind.

"I chose Tri-County because it's a good start for me. It offered everything I needed to pursue an associate in arts degree and was two minutes from where I live. I plan to take all of my spring classes at the Anderson Campus because I like it here so much," she said. She also has a part-time work/study job at the campus. She hopes to establish a collegiate FFA chapter at Tri-County next year. Merritt says Waters is focused on her career. "Students with solid direction reach their goals. The Anderson Campus helps Anna Kate balance a very busy life. She understands that education is the key to her future in the world of work."

"Tri-County has helped me to learn how to study. Smaller classes and one-on-one interaction with instructors are helpful," she said. "I really enjoy the hybrid courses, that allow me to work on my own and have the one-on-one interaction with the instructors. Living two minutes from campus (located on 5112 Michelin Blvd.) helps with the cost of gas and time. It's very laid back here. It's hard to manage full-time school, work/study job and my FFA responsibilities, but it's worth every minute of it."

Registration for spring semester is ongoing at the Anderson Campus, which is quickly becoming a full-service campus for students who need a variety of student services. Enrollment Counselor Butch Merritt is available Monday – Friday to assist students with the admissions process, financial aid questions and registration. The COMPASS placement test is now offered at the Anderson Campus on Fridays with expanded hours from 8 a.m. until noon.

In addition to offering the full Associate in Arts degree at Anderson, the Associate of Science degree will be available by fall 2010.

This fall, the Anderson Campus enrollment increased 47% over fall 2008, breaking the 1,000-student mark for the first time.