Lou Ann Martin Receives Presidential Medallion for Instructional Excellence at Tri-County's Spring Commencement

CONTACT: LISA GARRETT, 646-1506
FOR IMMEDIATE RELEASE 3/13/2009
(By Lisa Garrett)
ANDERSON --- Her peers call her a role model to whom all instructors can look to for inspiration. Her students appreciate her dedication to her craft and leave her classroom more confident, better learners. Lou Ann Martin, a math instructor at Tri-County Technical College, was honored for her dedication to the profession with the highest award presented to the faculty, the Presidential Medallion for Instructional Excellence, at the College's annual commencement May 12.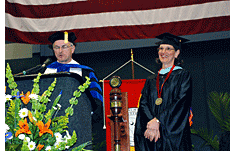 Dr. Ronnie L. Booth, president, presented the medallion to the Anderson resident. The medallion is presented each year to the instructor who has contributed the most during the academic year to the profession of teaching, to the development of the College and to the students.

"Without a doubt, Lou Ann exemplifies everything that the Presidential Medallion represents -- excellence in instruction, involvement at the College, student focus and respect of peers," said Robin McFall, English department head.

Mrs. Martin joined the College as a full-time math instructor in 2003 after serving as a math tutor and an adjunct math instructor since 1997.

"Lou Ann provides quality instruction each semester in every course she teaches," said fellow mathematics instructor Robin Pepper. "Her teaching style models active learning strategies," said Mrs. Pepper.

"There are few lectures in her classes and nearly every day she prepares activities to illustrate concepts and give her students an opportunity to explore, discover and apply those concepts," Mrs. Pepper said. "Lou Ann uses a wide variety of teaching and assessing techniques and develops projects for her students so that they have opportunities to practice mathematics outside of a textbook," adding that she embraces the use of instructional technology. "When she first began teaching online courses, she developed her own online materials rather than simply using the course shell provided. She is always looking for new ways to help her students learn," she said.

"The Mathematics Department depends on Lou Ann for guidance because her views are trusted and valued," said Mrs. Pepper. "As lead instructor for the Mathematics for Elementary Education series, she investigates what other colleges are doing so that as she refines her courses she can be certain that students will have a seamless transition to other colleges," said Mrs. Pepper

"She truly cares about students and their experiences at Tri-County," said Mrs. McFall. In their nominations, both Mrs. McFall and Mrs. Pepper stressed that Mrs. Martin works with students to help them develop their potential and build their confidence.

"Her students and advisees know that she will gladly help them whether it's during regularly scheduled hours or not," said Mrs. Pepper.
Several years ago Mrs. Martin founded the Future Educators of Tri-County Technical College and serves as an advisor and role model to these education majors. The club hosts an advising workshop in the fall that is attended by college representative and local school districts. She also advises a group of paraprofessionals from Anderson District IV as they seek certification.

She has served on Tri-County's Faculty Senate for years and for the past three as president. "Members of last year's Faculty Senate asked her to run for a third term as president because of the confidence they had in her to do the job," said Mrs. McFall.

"She works tirelessly on issues brought to her through her role on the Faculty Senate," said Pepper. "She enjoys working on problems, getting to the root of issues and seeking resolutions. She seeks input from across academic divisions, and works closely with folks from areas such as institutional research, student affairs and instructional support to clarify issues and develop solutions. Lou Ann recognizes the importance of communication, which she models throughout her work with the Faculty Senate," said Mrs. Pepper.

She supports the College's philosophy and goals of becoming a role model and a learning college. She is one of those people whom others seek out for advice. She always takes time to listen when someone needs assistance. She has a way of encouraging others to be more than they are, more than they think they can be," said Mrs. Pepper.

Mrs. Martin holds a B. S. in Education (Mathematics) from Indiana University of PA, and a master's in Education with a concentration in Mathematics from Clemson University.

She is a member of Mountville Presbyterian Church and has been the leader of the Ebenezer Community 4-H Club since 1992. She has served on the Anderson County 4-H Advisory Board from 1999 - 2001.

She and her husband, William, have two children. They live in Anderson.