Olivia Keaton is First Female to Enroll in Tri-Countyís New Automotive Technology Program

CONTACT: DOUG ALLEN, 646-1408
FOR IMMEDIATE RELEASE 12/23/2009
(By Lisa Garrett)
ANDERSON --- Looking back, Olivia Keaton said it was pure luck the day her Taurus broke down and she took it to Donís Family Auto Care in Anderson for repair. Owner Don Applegate immediately diagnosed and fixed her car that day and offered her a job after learning she was enrolled in Tri-County Technical Collegeís new Automotive Technology program and had two years of body work experience from high school.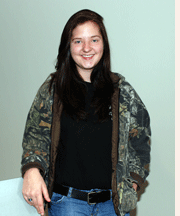 "While talking to her about her car, I was impressed with her knowledge of her vehicle and with her experience in auto body work," said Applegate. "Olivia has a willingness to learn that complements her knowledge of cars. I was looking for part-time help, and she serves as an extra a pair of hands in the shop," said Applegate, who relocated to the Upstate four years ago from New Jersey. Keaton works three 10-hour days weekly and takes general education classes at Tri-County's Anderson Campus.

To date she is the only female enrolled in Tri-County's new Braking System certificate program set to begin in January as a result of a partnership between Tri-County and Anderson School District Five's Hanna-Westside Extension Campus to offer an evening Automotive Technology program. The instructor will be Hanna-Westside's Automotive Technology Instructor Randy Martin, an ASE Master Certified Automobile Technician who has 18 years experience in the automotive field. Two courses will be offered in January in the evenings at the Extension Campus. They are Introduction to Auto Hazardous Materials and Introduction to Braking Systems.

High school students already taking automotive classes at the Extension Campus could enter the curriculum as second-year students, said Eugene Grant, dean of the Industrial and Engineering Technology Division at Tri-County. In addition to a certificate or degree, graduates could earn a certification from the National Automotive Technicians Education Foundation.

The certificate program will prepare persons to work in the area auto businesses and service centers, said Grant. "Research shows that within the next few years, there will be a huge need for auto technicians because of retirements and due to the sagging economy, more persons are repairing their existing vehicles. Automotive technology has been our most requested program. There is a need and a want for it. We're happy to be able to offer it January at the auto facility at the Hanna-Westside Extension Campus."

Keaton is looking forward to starting the spring semester classes that will supplement what she learns on the job daily.

"Just today -- for the first time -- Olivia took apart a dashboard to replace bulbs in the back of the instrument cluster," said Applegate. "She had never done it before and I walked her through the steps. I also asked her to put the dashboard back together and she did. She asks for help if she needs it."

Teaching moments like that happen every day, she said. "I'm a very hands-on person and can't wait for classes to begin," she said.

"Olivia is a value to my business and will be even more valuable after she completes her degree," said Applegate.

"My career goal is to one day own my own business," she said. Until then she continues all of her classes at the Anderson Campus, which is close to her home in Anderson. "I love it here," said Olivia, who moved to the area from Columbia. "The people are really nice and it's so easy having all of your classes in one building."

For more information about the Automotive Technology certificate program, contact Doug Allen at 646-1408. Additional Automotive Technology certificates will be available in the fall of 2010 and the full degree program is being developed.