Dr. Mendel Stewart Receives Tri-County's Order of Merit


CONTACT: LISA GARRETT, 646-1506
FOR IMMEDIATE RELEASE 11/10/2009
(By Lisa Garrett)
PENDLETON --- Tri-County Technical College honored Dr. Mendel H. Stewart for his 32 years of dedicated service as a faithful member and chair of the College's Commission.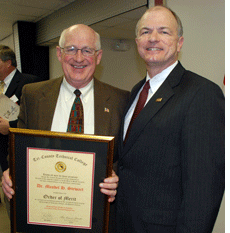 President Ronnie L. Booth presented the Sunset resident with the Order of Merit, the highest award given by the College's nine-member Commission. The presentation was made at the College's November 10 Annual Report luncheon.
The Order of Merit is an honorary society which recognizes community and state leaders who have contributed to the development of Tri-County Technical College and the State Technical College System.
"It was a privilege and an honor to serve Tri-County," said Dr. Stewart, who remains the longest-standing Commission member in the College's 47-year history. "I've always been an advocate for the College and will continue to be. I still say Tri-County is the best deal for higher education in this state. I truly believe this."
"Since joining in 1977 as Pickens County's representative, he has been solidly committed to the community college philosophy and in every way has pursued the mission and purpose of the College," said Dr. Booth. Dr. Stewart devoted his entire career to education. Over 39 years, he coached, taught, and served as District Superintendent of Education for Pickens County. He retired June 30, 2006, but returned to serve as Interim Superintendent from January to June of 2009.
He began his teaching career as a science teacher at Dacusville High School and is former principal at Pickens Junior High School and former assistant principal at Liberty High School. He also served as Executive Director for Secondary Programs for the Pickens County School District, was Director of Vocational Education and Director of the Career Center and later served as Assistant Superintendent of Administration for five years. He joined Tri-County's board in 1977 and was chairman from 1997 - 2007, vice chair from 1994 – 96 and a former ex-officio member of the Foundation Board.

"He remains one of those rare educators who shaped the lives of the students he taught and the thousands of teachers who served under his leadership," said Dr. Booth, reading from the Order of Merit resolution. "He always had the students and their access to an affordable education at the forefront of his thoughts, actions, and decisions." Dr. Stewart and his sister, Helen Singleton, broadened opportunities for more students to go to college by establishing the R. Clyde and Florence G. Stewart Scholarship at Tri-County in memory of their parents.

"Through a career of exceptional service and leadership, he had a profound influence on setting the course in the Pickens County School District, Tri-County Technical College, and the Technical College System and will always be among this area's most influential educators and leaders," said Dr. Booth.