Two Earn High School Diplomas through Tri-County's Gateway to College Program

FOR IMMEDIATE RELEASE 1/12/2009
(By Lisa Garrett)
PENDLETON --- Two students earned their high school diplomas in December through Tri-County Technical College's Gateway to College program. Kimberly R. Banks, of Seneca, received her diploma from the School District of Oconee County and Seneca High School, and Karilee A. Rogers, of Anderson, received her diploma from Anderson County School District Five and Westside High School.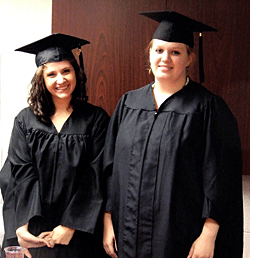 The Gateway to College initiative serves at-risk students and recent high school dropouts in Anderson, Oconee and Pickens counties. The program enables students to earn a high school diploma (awarded by participating area high schools) while achieving college success. Students earn both high school and college credit, up to and including an associate degree, awarded by Tri-County Technical College. Students start with a small learning community experience consisting of comprehensive academic and guidance classes, helping to build their academic competence and their confidence while acclimating them to the college environment. All classes are college courses taught by College faculty on Tri-County's campus.
Banks, a Warren, Ohio, native, returned to Ohio and enrolled at Youngstown State, with a future goal of enrolling at Ohio University and majoring in Journalism. "The Gateway to College program is a great opportunity for students, but it is also very challenging. You don't have much wiggle room for slacking off," she said. Rogers agrees. "You must be motivated and put in a lot of time -- not only in class but on homework and studying. It isn't like high school; you are taking college classes!" Rogers, a Pickens native, plans on continuing her education at Tri-County Technical College in the Nursing program.
Both of these students will be eligible to march in Tri-County Technical College's spring graduation ceremony.
The Gateway to College scholarship program is funded by the South Carolina Lottery Tuition Assistance and other College and grant programs, the College's Foundation, local school district contributions, the Appalachian Regional Commission, Citi Financial and a Workforce Investment Act grant.