Gregg Stapleton is Vice President for Business Affairs at Tri-County Technical College
CONTACT: GREGG STAPLETON, 646-1796
FOR IMMEDIATE RELEASE 9/8/2009
(By Lisa Garrett)
PENDLETON --- Working in higher education in Upstate South Carolina is a dream come true for Gregg Stapleton, who accepted the job of Vice President of Business Affairs at Tri-County Technical College earlier this summer.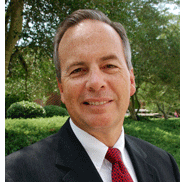 As chief business officer for the College, Stapleton plans, directs and administers comprehensive business affairs programs in the areas of administrative services, facilities, fiscal affairs, information technology, personnel, physical plant and security.

Looking to the future, Stapleton and his family bought a house on Lake Keowee in 2006 and felt more drawn to the area every time they vacationed there. "We knew it's where we wanted to live the rest of our lives after retirement," said Stapleton, who, at the time, was beginning a job as Vice President of Financial Operations at Houston Baptist University in Texas.

Stapleton was anticipating the move to South Carolina was years away -- he didn't know they would relocate quite this soon. His son was accepted at Clemson University last year, and his family moved to the Salem home soon after. He commuted every week to Houston, where he was the chief financial officer of the 2,400-student private university. While in the position, he oversaw a $100 million endowment, $50 million operating budget and $40 million of construction projects annually.

Then he saw the job at Tri-County posted. "It sounded like a good fit. I am drawn to higher education and the mission of Tri-County – making a difference in people's lives. Tri-County is in a unique position to serve the community and plays a vital role in helping our neighbors to find jobs and in keeping local business and industry competitive," said Stapleton, who has nearly three decades of diverse financial, administrative, information technology and commercial leadership experience in higher education and the corporate world.

He spent 27 years working around the globe for Houston-based Marathon Oil Company, where he held various management positions in Finance, Administration and Information Technology.

"I like the scope of my responsibilities here at Tri-County. I've been responsible for most of these functions over the course of my career. I wanted to translate my experience into benefit for the not-for-profit world."

Stapleton holds a bachelor's degree in Finance from the University of Notre Dame and an MBA from Houston Baptist University.

He published an article titled "Change Management Underpins a Successful ERP Implementation at Marathon Oil" in the fall 2004 Journal of Organizational Excellence and presented "Communicating a Renaissance, Gaining Employee Commitment to Process Improvement, Technology and Change" to the Association for Quality and Productivity at its national meeting in New Orleans in 2003.

He and his wife, Kathy, have four children, Michelle, 24, Eileen, 21, Patrick, 19, and Phillip, 8.