Record-Breaking 6,560 Students Make up Tri-County's Largest Class in 47-Year History

CONTACT: DR. RONNIE BOOTH, 646-1774
FOR IMMEDIATE RELEASE 8/24/2009
(By Lisa Garrett)
It's been 10 years since Darlene Greer attended college. Since she lost her job in a plant closing several years ago, she's just been bouncing around jobs. "I want employment stability, and I'm ready and focused to return to school. Tri-County Technical College was my first and only choice," said the 43-year-old Seneca resident majoring in Administrative Office Technology. "This is where I want to be."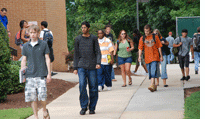 She joins the 6,560 students who make up Tri-County 's largest class in its 47-year history. At the beginning of the first day of classes (August 24), preliminary figures show a double-digit enrollment increase – a 14% jump over last fall's then-record-breaking enrollment of 5,730.

As of the first day of classes, overall Anderson Campus enrollment had increased 47% over fall 2008, breaking the 1,000 student mark for the first time. The number of students taking classes only at Anderson is 243, which is up 78% over fall 2008. Two-hundred-and-fifty-one students are taking L.P.N., dual enrollment and general education classes at the College's Oconee Campus at the Fred P. Hamilton Career Center.

Tri-County's student body has increased by 59% since the fall of 2002, when enrollment was 4,125.

"We are a visible, viable and valuable option for many," said Dr. Ronnie L. Booth, president of Tri-County. "We are here to meet the needs of the community and to make the community stronger."

Enrollments at community colleges across the nation are climbing amidst this uncertain economic climate, and more residents than ever are choosing Tri-County as an accessible and affordable option.

"We're an affordable option for high school graduates, working adults who are seeking skills training and for those who have lost their jobs in the country's economic downturn. Rising unemployment rates have sent displaced workers back to the classroom in droves for retraining and oftentimes new careers," said President Booth.

One of the reasons Emily Wright, a 2009 Pendleton High School graduate, decided to enroll at Tri-County was the good experience she had taking an English 101 dual enrollment class in high school last year.

The Secondary Transition Enrollment Program (STEP) program, also called dual enrollment, allows qualifying high school students the opportunity to gain high school and college credits at the same time by taking college-level courses in their high schools or career centers, as well as on Tri-County's campuses or online. During the 2008 – 09 fall semester year, these 437 students accounted for seven percent of the College's enrollment.

"Tri-County is affordable and convenient," said Wright, who is taking University Transfer classes and plans to transfer to Anderson University to pursue an elementary education degree. "Tri-County offers all of the classes I need, and it's a good option for me."

The value of Tri-County's low tuition is definitely a factor in enrollment growth, Dr. Booth said. "We're an affordable option for everyone. Cost is a major selling point for College these days. More and more people are choosing Tri-County because they can get two years of college at a significantly reduced rate," he said. Tri-County's tuition is $1,512 per semester for full-time students, but with lottery tuition assistance, which covers up to $900 for eligible full-time students, a student would pay a balance of only $612 for a semester. Many students received other forms of financial aid that enables them to attend at little or no cost.

"Many Tri-County students attend on partial or full scholarships provided through our Foundation, and will graduate with no student loans to pay back," he said.

"Students can get the education they want and need at the price they can afford with the good service they deserve," said Dr. Booth.

Over the past couple of years, the College has addressed the diverse needs of individuals by opening branch campuses in Anderson and Seneca and by expanding online and evening offerings – in short, finding new and different ways to meet individuals' needs and schedules.

Nineteen-year-old Rachel Wilson of Anderson has taken all but one of her Business Management classes at the Anderson Campus since becoming a student in 2008. "The campus (located at 511 Michelin Boulevard) is five minutes from my home and it's so convenient. They offer exactly what I need, and I save gas cost and commuting time to Pendleton. I'm so glad to have the campus in Anderson. It has been a good experience all around."

First-time college student Shalonda Green was nervous and excited driving to campus the first day of classes, but she's looking forward to preparing for a career in Surgical Technology. "Tri-County 's classes fit my work schedule and family life (she has four children). The time is right, the kids are older. I'm determined to do this for myself and my family." The small classes will make a difference for the 32-year-old who has been out of the classroom for 15 years. "I'm going to do what it takes to succeed. This is the start of a new beginning for me and my family," said Green.