Officials Break Ground on Easley Campus

CONTACT: LISA GARRETT, 646-1506
FOR IMMEDIATE RELEASE 5/29/2009
(By Lisa Garrett)
EASLEY --- S.C. Rep. Rex Rice opened his remarks at the groundbreaking ceremony for Tri-County Technical College's Easley campus by asking for a show of hands from guests who had been affected by the technical college system, either as a student, a relative who had attended the College or as an employee.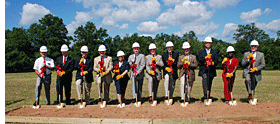 The response was nearly unanimous.

In the past, residents traveled to the Pendleton, Anderson or Oconee campuses to take credit or personal interest classes. This past Friday (May 29), legislators, county council members and local business leaders joined College officials in breaking ground on a 37.51-acre piece of property on Powdersville Road in Easley that will become the site of the College's third branch campus. Construction will begin this summer on the first two buildings -- one is a QuickJobs Training Center and the other is a Multipurpose Classroom and Technology Center.

The future Easley Campus will be located on Powdersville Road and will give the College a presence in each of the three counties. The campus will better serve the citizens of Pickens County by offering credit and continuing education courses to residents.

"Being accessible and available to our Pickens County citizens has always been a priority of ours. This is the long-awaited first step in bringing Tri-County to your community," said Helen Rosemond-Saunders, chair of Tri-County's Commission.

"Easley has always been an area underserved by of the College. The time has come for us to be here where you live and work. We envision a vibrant campus to enrich your lives and your community," said Mrs. Rosemond-Saunders.

We need Tri-County in our community," Rep. Rice said. "Let's educate our people and give them the opportunity to move forward and to find new jobs. I know what this will mean to the community. It's a great asset."

" I will support this project in any way that I can," said Neil Smith, chairman of the Pickens County Council.

The first building on the site will be the QuickJobs Training Center. It is funded through a $986,364 grant from the State Department of Commerce to Pickens County. The QuickJobs Training Center will assist in workforce training and skills development for the College and for Pickens County. Instructors from the Corporate and Community Education and Industrial and Engineering Technology Divisions will teach training courses specifically based on locally identified needs and shortages.

The 4,600 square foot building will have two classrooms and a large space for labs (welding and electrical classes). Among classes taught will be a manufacturing certificate program. Other quick jobs training will include food service, customer service, medical transcription, residential and commercial electrical wiring, paralegal, bookkeeping, certified nurse aide and CNC operation.

Projected opening date is late 2009 or early 2010.

The Multipurpose Classroom and Technology Center will be a 40,000-square-foot facility funded through State capital reserves of nearly $6 million. The facility will house university transfer classes, computer and industrial electronics classes, as well as a Licensed Practical Nursing program. Non-credit classes (personal interest) and professional development will be offered through the Corporate and Community Education Division. The anticipated opening date for this multipurpose facility is Fall 2010 or Spring 2011.

This wouldn't have happened without a lot of friends," said Dr. Ronnie L. Booth, president of Tri-County Technical College. "This is a big day and a long time coming. It was the next step for the College in terms of our mission, which is to be accessible and available to the residents of our service area."

Dr. Booth joined others in extending a word of thanks to Pickens County College Commissioner Ben Childress and the Pickens County Council "who made it work. This partnership with the county is huge. We're definitely better together," said Dr. Booth.

"This is nothing more important than addressing the educational and workforce needs of the county and the community in these challenging economic circumstances," said Senator Larry Martin.

"I also commend the Pickens County Council. This is a tribute to the three Tri-County Commission members from Pickens County. All three were instrumental in making the decision move this project forward," said Senator Martin.

"We'll make this a better place to live. It's a good day to be in the Upstate," added Dr. Booth.