Clemson Downs Volunteers Make $7,000 Gift to Tri-County Technical College's Foundation to Sponsor Seven Scholarships


CONTACT: LISA GARRETT, 646-1506
FOR IMMEDIATE RELEASE 2/13/2009
(By Lisa Garrett)
CLEMSON --- Tequila Clinkscales will begin her dream of attending nurse aide certification classes at Tri-County Technical College next month, thanks to the generosity of the Clemson Downs volunteers.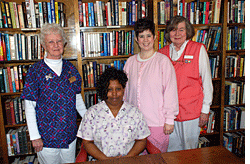 Recently the Clemson Downs volunteers made a $7,000 gift to the College's Foundation to sponsor seven scholarships for students who enroll and meet the qualification criteria for the Nurse Aide Certificate program offered through the Corporate and Community Education Division at the College. These scholarships, valued at $900 each, will provide financial assistance for tuition, books, background check, health status documentation and the National Nurse Aide Assessment (certification exam).

Clinkscales has worked as an aide for seven years, but has never had the opportunity to attend classes to become certified. "I'm so excited," said the Pendleton resident. "This is my dream."

The scholarship comes at the perfect time for Clinkscales. The Department of Health and Environmental Control (DHEC) that regulates the long-term care facilities in South Carolina recently implemented a new standard for licensed nursing homes. All nurse aides working in a facility must become certified in South Carolina. Regulation Number 61-17, Standards for Licensing Nursing Homes, mandates that all nurse aides must be certified by December 2009.

The Clemson Downs volunteers are comprised of around 75 residents in the community who raise money through yard sales, the sale of note cards donated by a resident artist and other fundraisers. The majority comes from memorials from Clemson Downs residents in their wills.

"Our residents appreciate the care given by our nurse aides and have a good experience with our nurse aides so we wanted to assist them in obtaining certification. Memorials are our biggest way of raising funds for this," said Barbara Adams, treasurer of the Clemson Downs volunteers,

The volunteer group recently gathered to review and discuss applications, Adams said. They selected seven nurse aides based on criteria that includes whether or not they are certified, educational background and financial needs. First choice was given to Clemson Downs employees.

"Our nurse aides are so grateful," said Susan Alexander, director of assisted living. "It is wonderful that our volunteers do this. It helps the students and the residents of the Downs."

"Nurse aides have always been a critical component of the health care team, and they are even more significant today as the need for direct patient care expands in hospitals and assisted living facilities.

The Clemson Downs volunteers have donated a total of $10,000 to the College since 2008. We appreciate their continued support of CNA scholarships," said Haley Sitton, director of Development at Tri-County.

Tri-County's 92-hour nurse aide certificate program prepares individuals to provide direct care to the geriatric population in retirements homes, long-term care and assisted living facilities. This certification also can be required for entry-level employment in the hospital as a nursing assistant.

The Nurse Aide Certificate program is recognized as an accredited training organization by the S.C. Department of Health and Human Services (DHHS). Under SC regulations, all persons wanting to become certified nurse aides must complete their education in a DHHS-approved program, such as Tri-County's, to be eligible to take the National Nurse Aide Assessment Program (NNAAP) examination. Tri-County is an approved testing site for the written and skills competency examination of this national examination.

Tri-County offers several scheduling options to include day and evening classes each year on the Pendleton Campus, Oconee Memorial Hospital, Palmetto Health Baptist in Easley, Fred P. Hamilton Career Center in Seneca and other possible locations as needed and for the convenience of the students.