Three Community/Business Leaders Serve as Co-Chairs of Tri-County Technical Collegesí Golden Opportunities Capital Campaign


CONTACT: JOHN LUMMUS 646-1548
FOR IMMEDIATE RELEASE 11/10/2009
(By Lisa Garrett)
PENDLETON --- Tri-County Technical College's Foundation today announced three community/business leaders who are serving as co-chairs of its Golden Opportunities to Shape the Future Capital Campaign. The College officially launched its first-ever capital campaign to raise $9 million in cash and pledges over the next five years to position the College to be more responsive to community needs.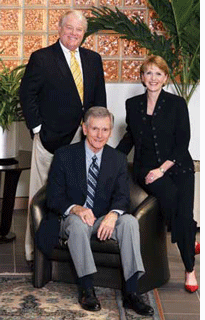 Spearheading the campaign are Neal Workman, of Seneca, chairman of the board of Trehel Corporation; D. Kirk Oglesby, Jr., of Anderson, president emeritus of AnMed Health; and Jane S. Sosebee, of Clemson, director of external affairs for AT&T South Carolina. Mr. Oglesby and Mrs. Sosebee also serve on the College's Foundation Board.

Funds raised through the capital campaign will help the College to advance its strategic mission in four areas: expanding educational opportunities, improving technology and equipment, enhancing opportunities for student success and promoting economic and community development.

All three co-chairs say a belief in the success of the Tri-County community is integrally tied to the success of Tri-County Technical College. "We believe our region should serve as a model for economic prosperity and quality living. Education is at the heart of that vision. Tri-County is a catalyst in preparing the regional workforce for present and future jobs and for advancing our economic stability," said Mrs. Sosebee.

"The College has a history of bringing solutions to businesses and industries. Based upon on our relationship with the College and their experience and responsibilities in the community, we believe the value and importance of the college cannot be overstated," said Mr. Oglesby.

"Tri-County improves the lives of our citizens and the economic well-being of our state. It's part of the economic solution for our area," said Mr. Workman.

"In addition to offering technical degrees as well as university transfer classes, Tri-County is a place when someone can go to retrain, retool and rethink their skills set. It offers both citizens who have either lost their jobs in this economy or those making a career change the skills training they need to return to the workforce. I've personally seen Tri-County transform lives," said Workman, who served on Tri-County's Commission from 2001 - 2008.

"Our gifts to the campaign can make a profound difference in the lives of students and in the future of Tri-County Technical College," said David Wakefield, chairman of the College's Foundation Board. Tri-County is one of the key structural components of our community. It's a key part of the foundation upon which our community is built. We are fortunate to have community leaders like Neal Workman, Jane Sosebee and Kirk Oglesby chairing this important 50th anniversary capital campaign."

"Tri-County is fortunate to have such a highly accomplished and well respected team leading this campaign. I have every confidence that their leadership will be paramount to its success," said John Lummus, vice president for Economic and Institutional Advancement at the College.

So far, during the year-long silent phase of the campaign, the College has raised approximately 30 percent of its goal. The public phase will continue for an additional three years. "We realize these are tough economic times, but we believe our community partners will show strong support for Tri-County and its mission. People realize that the College can help to create a better life for everyone," said Mr. Lummus.

For more information about the capital campaign, contact John Lummus at 646-1548 or jlummus@tctc.edu.