Cheryl Bauknight Demonstrates Her Love for Animals Through Her Contributions to Community and College

FOR IMMEDIATE RELEASE 9/28/2009

CONTACT: DR. PEGGY CHAMPION, 646-1357
(By Lisa Garrett)
EASLEY --- Cheryl Bauknight is a true animal advocate who demonstrates her love for animals in her contributions to the Pickens County community and the College.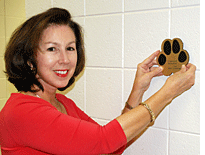 "I want people to be aware of Tri-County's Veterinary Technology program and to see its value to the community," said Bauknight, who serves as an active member of both the Veterinary Technology advisory committee and the IACUC committee, which oversees all animal care for the USDA.

In addition to her service on the committees, Bauknight has donated to the "PAWS for a Cause" campaign, which allows individuals to purchase a dog paw, a cat paw, or a horseshoe in memory or in honor of a beloved pet. Each one is personalized with the pet's name, the donor's name, and a brief message and is displayed in Halbert Hall. The cost is $50 per paw, and proceeds go to the Tri-County Technical College Foundation to support the Veterinary Technology program.

At a recent advisory committee meeting, Bauknight added a second paw to the wall, this time in memory of Sylvester, her family members' cat. She also sponsored a paw for a good friend in Tennessee.

She says "PAWS for a Cause" is a wonderful way to honor the animals and their owners. "The memorial fund is a way to help the program which I hope to see expanding in coming years."

The monies raised through "PAWS for a Cause" will one day be used toward the cost of expanding Halbert Hall to better serve the animals that come to the Veterinary Technology Department through local animal shelters. This addition will include a new dog kennel with 20 indoor/outdoor runs, 12 additional outdoor runs, a new cat ward, and a new isolation ward, as well as additional storage space.

I support Tri-County and its Veterinary Technology program because I believe in their mission with all my heart," said Bauknight. "Their mission is providing quality education and training of students, as well as aiding our community by interacting with all the local animal shelters, helping get their animals adopted, and providing care as well as socialization. This attracts above-average students who will go out into their communities as ambassadors and leaders in their profession."

"Cheryl is very helpful in keeping us abreast of what the community is interested in," said Dr. Champion, adding that she also assists with getting the word out about the department's adoption days. "Most of the committee is comprised of veterinarians and veterinary technicians, and Cheryl brings a fresh community view to the table. She listens to the issues and then gives great feedback."

A pharmacist at the Free Medical Clinic in Easley, Bauknight began her education at Tri-County in 1972 in the Medical Assisting program, alongside fellow medical assisting major and good friend, Dr. Lynn Lewis. "When the public member for our IACUC committee (which regulates animal safety within USDA guidelines) and a spot on our Veterinary Technology Advisory Board opened, I could not think of a better representative than Cheryl. I knew her instincts and interest in animal care/welfare would be great assets to the program. She is always a faithful attendee who contributes to the work of our animal care from a community perspective."

"I want to thank Cheryl and others who have contributed to the Foundation for the care of our dogs and cats," said Dr. Champion. "It's a way of turning a negative experience into something positive and a way to show you care for fellow faculty and staff, family, and friends.

For more information about Tri-County Technical College's Veterinary Technology program, contact Dr. Peggy Champion at 646-1357 or mchampio@tctc.edu.