Honi Deaton & Dream Headline Free Bluegrass Concert

CONTACT: REBECCA EIDSON, 646-1507
FOR IMMEDIATE RELEASE 3/10/2009
(By Lisa Garrett)
PENDLETON --- .
Time." They have played The Grand Ole Opry, Branson, Missouri, and hundreds of festivals, theatres and clubs across the U.S. and Canada since 2002. The website is http://honideaton.com/.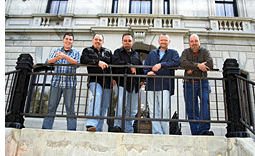 The New Dixie Storm is a Greenville, SC-based bluegrass band. Their instrumental and vocal arrangements come from the soulful traditions and influences of first-generation performers like Bill Monroe, The Osborne Brothers and Flatt & Scruggs yet speaks to listeners everywhere with a blend of youthful and energetic artistry. Band members include Glen Crain on guitar, Scott Hawkins, on banjo and vocals, Jeff Hayes on bass and harmony vocals, Jeremy McCollum on rhythm guitar, and Trey Ward on mandolin. The website i
Formally known as Blue Streek, the new band, Legacy Drive, was formed in 2008. They are the 2007 Georgia State champion band and are comprised of past members of highly respected groups, such as The Marksmen and Mercy Tree. Band members include Tommy Dutton on vocals and bass, Josh Hicks on vocals, banjo and rhythm guitar, Lee Marcus on vocals, lead guitar and banjo and Blake Young on vocals and mandolin. You can find them on the Internet by searching Legacy Drive on myspace.com.
For more information, visit Tri-County Technical College's website at www.tctc.edu and click on Bluegrass under the Stars Concert or contact Mary Johnston at (864) 646-1503.