Brendan Todt is New Head Soccer Coach at Tri-County

CONTACT: BRENDAN TODT, btodt@tctc.edu
FOR IMMEDIATE RELEASE 7/9/2009
(By Lisa Garrett)
PENDLETON --- Men's soccer practice at Tri-County Technical College kicks off August 5 with Brendan Todt taking over as the new head coach.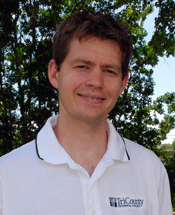 He continues the program formerly coached by Jonathan McCombs and John Borycki.

Vinson Burdette, dean of student development and athletics director, said, "We're pleased to have Brendan on board and know that he will continue to help us build a quality soccer program at Tri-County Technical College."

The Hawks begins its season August 28 at 5 p.m. at Young Harris College in Young Harris, Georgia. The next day they play Georgia Perimeter College at Young Harris. The first home game is Sunday, September 13, at 1 p.m. at Nettles Park in Clemson.

After four years of competing at the club level in NJCAA's Region X, in 2007 the College's Commission's voted to allow Tri-County sports teams to be NJCAA Division One varsity teams.
During the first varsity season, the Hawks' record was 7-13-1 overall and 3-7 in conference play. Showing improvement, the Hawks' record during the fall 2008 season was 6-10-5 overall and 6-5-3 in conference play. During the 2008 season, the Hawks also competed in the Region X conference championship and finished second in conference standings.

Todt joined the College in June after he and his wife moved to the area from Chicago. played soccer in high school and at Knox College in Illinois until a knee injury prohibited him from continuing to play. Following his injury, Todt began coaching junior high and traveling teams.

Playing collegiate sports enhances the college experience, says Todt. "I attended a four-year residential college, and the week before classes we would have pre-season practice. It's a way for freshmen to meet friends quickly. It was a real benefit to me because I knew no one at the college. Many of my team members have become lifelong friends," he said.

"Playing sports also teaches time management skills – how to fit your academic life with your athletic and social life. You have to learn to prioritize and to multi-task," he added.

Todt sees his role as coach as serving as a support system. "I want to foster a creative, supportive atmosphere for the team. Sports is an outside learning experience – a place to learn and a place to have fun."

Todt holds a degree in creative writing from Knox College in Illinois. In addition to coaching, he pursues freelance writing opportunities.

He and his wife, DJ, who is a family medicine resident at AnMed Health, live in Anderson.